Three Questions With Eliza Wheeler: advice for young writers & illustrators, dolls and maple seeds, WHEREVER YOU GO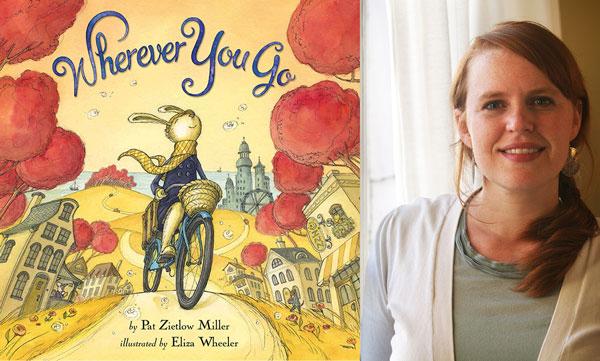 Eliza Wheeler is an illustrator and author of children's books, including MISS MAPLE'S SEEDS, which debuted on the New York Times Best Seller list, and the Newbery Honor winning novel DOLL BONES (by Holly Black). Eliza is a northern Wisconsin native currently living with her husband in Los Angeles, California.
I met Eliza when we were both chosen for the SCBWI Illustration Mentorship Program back in 2010, and we've become good friends since. It's been exciting to watch her career take off! So looking forward to rooming with Eliza at the SCBWI Summer Conference in Los Angeles this year.
Also excited about the launch of WHEREVER YOU GO, a new picture book written by Pat Zietlow Miller (find out more in Pat Zietlow Miller's Three Questions interview), illustrated by Eliza, coming out from Little, Brown Books For young Readers on April 21, 2015. I LOVE this book so much! Young readers will appreciate the fun journey and look-more-closely-what-do-you-see gorgeous artwork while grown-ups will also enjoy the underlying (and uplifting) life sentiment. You can read the (starred) review on Kirkus.
Synopsis of WHEREVER YOU GO:
Join an adventurous rabbit and his friends as they journey on winding roads to discover the magical worlds that await them. Pat Zietlow Miller's lilting rhyme and illustrator Eliza Wheeler's enchanting landscapes celebrate the possibilities that lie beyond the next bend in the road, which always leads you home again.
You can find out more about Eliza and her work at her website, Twitter, Instagram and Facebook.
Q. Could you please take a photo of something in your office and tell us the story behind it?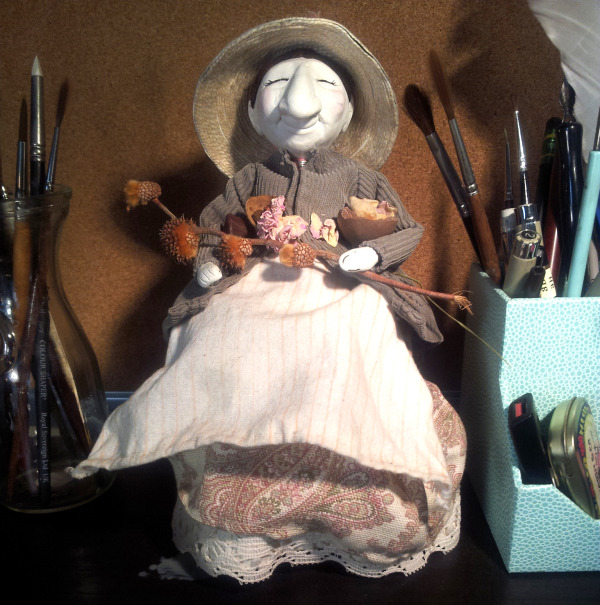 The favorite thing in my work-space is the doll that I made while I was creating my first book, MISS MAPLE'S SEEDS.
While I was working on the sketches for this book, I wasn't feeling confident in the consistency of the many angles of my one singular character (Miss Maple) in the story, and so I decided to build a doll of her. I'd never done this before, and it took me a long time.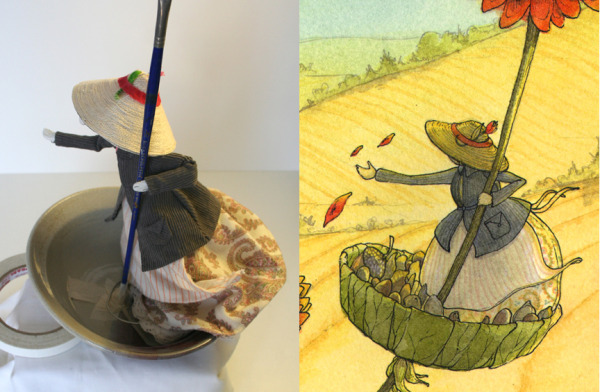 I used a self-hardening clay called LaDoll for the head, arms and feet, and then made the body out of wire and stuffed and sewn fabric. It was worth the work because I was able to pose and photograph her with lighting in all the positions and angles I needed to draw. And now she sits on my shelf.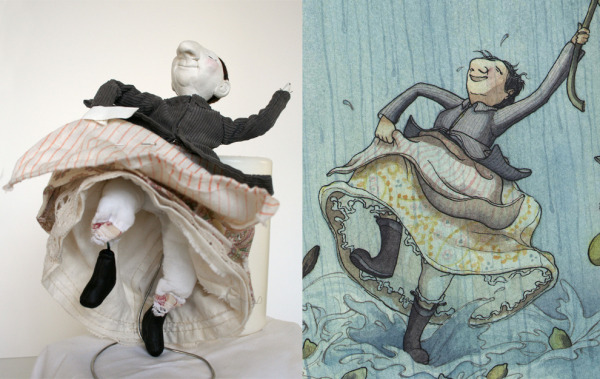 My husband, Adam, occasionally takes walks around the block, and will sometimes bring back the most interesting seeds or leaves. She hangs on to those for me.
Q. What advice do you have for young writers and/or illustrators?
Seek a balance in your creative work and daily life that's not only sustaining, but life-giving. Finding this balance has been and is still a constant process for me.
I often hear creative people talk about working hard, going all-or-nothing, taking leaps of faith, giving ultimatums and timelines about 'making it' into an industry, etc. Especially for those just starting out, the dilemma is often between time and money. Trying to do the creative work 100% right away brings a lot of pressure and tension into your life that can stifle creativity, which then becomes paralyzing.
On the other hand, feeling locked into a life that allows no time for creative work is also stifling. So the goal is to find the perfect situation that gives you just enough of both.
That often means working part time or full time at a day job for many years and finding a few regular hours on nights, mornings or weekends to turn off the world and focus (or just play!). The baby steps that you make during these hours will begin to add up, and form into tangible, inspired projects. That momentum will build, and then the scales gradually tip.
Making progress is about daily baby steps. It's not about achieving instant perfection in one fell swoop. It's a small seed that grows imperceptibly for a little while.
Q. What are you excited about right now?
I'm very excited to be traveling to Madison, Wisconsin in May to celebrate the release of my new illustrated picture-book, WHEREVER YOU GO, written by Wisconsin author Pat Zietlow-Miller. Pat's manuscript is rhythmic and beautiful, and was basically a blank canvas for me. The text was so open that I could create a narrative within the pictures. This book stretched my creative muscles in a lot of new and sometimes uncomfortable ways (the joke with my agent was that I was drawing my fingers down to bloody stumps) — there's a scope and level of detail in this artwork that I'd never created before — so I'm thrilled to finally be able to share it with everyone, and to be able to team up with Pat in that sharing process.
——
For more insights from book creators, see my Inkygirl Interview Archives and Advice For Young Writers And Illustrators From Book Creators.