Three Questions with Tricia Springstubb: Advice for young writers, office cats and CODY AND THE FOUNTAIN OF HAPPINESS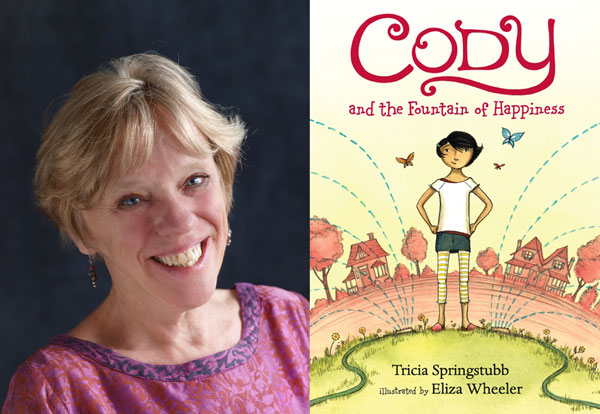 A late bloomer, Tricia Springstubb didn't discover the writing life till after she'd tried many other careers—all of which, not so surprisingly, centered on kids. Now she is lucky enough to be a full-time writer in Cleveland, where she lives with her teacher husband and, of course, Habibi. Her books include the novels What Happened on Fox Street, Mo Wren Lost and Found, and the picture book Phoebe and Digger.
You can find out more about Tricia and her work at her website, on Twitter and on Pinterest.
Synopsis of CODY AND THE FOUNTAIN OF HAPPINESS:
This is the very first book in a new series about Cody, her best friend Spencer, and their diverse families and neighbors. Cody is a girl who hates to give up, which makes for adventures big and small. My books are usually kind of broody, so writing one as sunny and happy as this was great fun. The next book publishes in spring 2016. (Publisher: Candlewick)
Q. Could you please take a photo of something in your office and tell us the story behind it?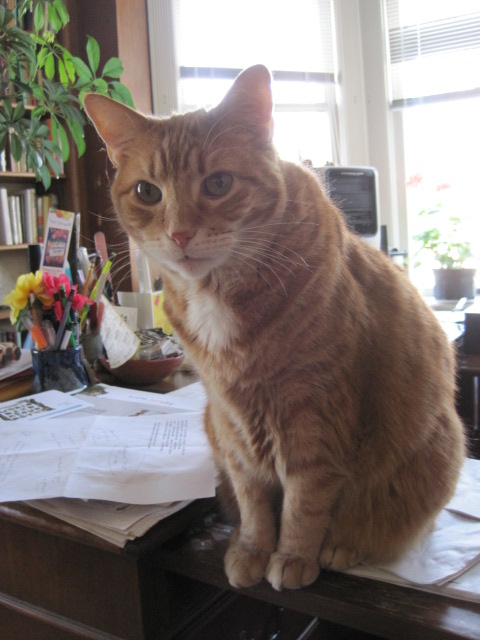 This is the aptly named Habibi. He's beloved not just by me, but kids all over the world. For real! Whenever I do a Skype visit, the sound of young voices brings him running. As soon as I hold him up to the camera, it's all over for me. He completely steals the show! When not being a rock star, he likes to hang around my desk, preferably sitting on top of my notes. Cody features a large, comic, infinitely lovable cat named MewMew. Maybe you can guess my inspiration.
Q. What advice do you have for young writers?
Look again.
The world today is such a busy, buzzy place, with stimulation coming at us from every angle. It's easy to find ourselves skimming along the surface of all there is to see, hear and read. Easy to forget how to listen instead of hear, how to look and really see.
Kids are born naturals at noticing and observing. As writers we need to nurture that skill, so we don't just register A Tree but This Tree, in all its particular leafy (or barren) glory. Not just A Mean Girl, but This Mean Girl, with her chewed-down nails and too-loud voice. Our job is to go beneath the surface, beyond labels and first impressions, behind that front door. I may be biased, but I think it's the world's best, most rewarding job!
Q. What are you excited about right now?
I'm surfing the stratosphere because Eliza Wheeler is the illustrator for the Cody books. She found just the right combination of warm and witty to perfectly suit the books' tone. Wait till you see her MewMew!
I'm also excited to have two new books in a single year, a first for me for sure. The other is Moonpenny Island, a middle grade novel for slightly older readers. A small island, Moonpenny harbors some big secrets. I think of the main character, Flor, as a sort of older sister to Cody. Both girls brim with questions and dreams, and though they grow and change, they also remain indelibly, uniquely themselves.
——
For more insights from book creators, see my Inkygirl Interview Archives and Advice For Young Writers And Illustrators From Book Creators.