Advice For Young Writers/Illustrators, WISH and SPECIAL DELIVERY: Three Questions With Matthew Cordell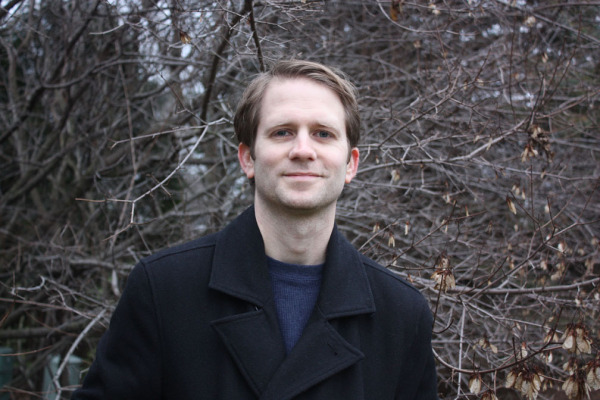 Matthew Cordell is the illustrator of over 25 books for children including picture books, novels, and works of poetry. Several of which he has also written, including New York Times Notable picture book, HELLO! HELLO!. Matthew lives in a suburb of Chicago with his wife, author Julie Halpern, and their two children. Visit him online at matthewcordell.com. You can also find him on Facebook and Twitter.
Matthew's two newest books are SPECIAL DELIVERY, written by Philip C. Stead and illustrated by Matthew (Roaring Brook Press), and WISH, written and illustrated by Matthew (Disney-Hyperion).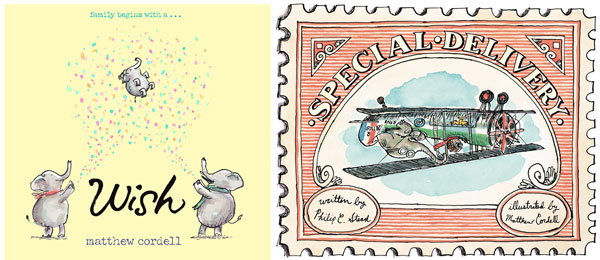 SPECIAL DELIVERY synopsis: Sadie is determined to deliver an elephant to her Great-Aunt Josephine, who lives completely alone and can really use the company. With the help of some interesting characters, she tries mailing the elephant, flying it over, hopping a train, and even an alligator boat ride. This eccentric and hilarious story will surprise and entertain from beginning to end.
WISH synopsis: As an elephant couple embark on a life together, thoughts of children are far away-at first. But as the desire for a child grows, so do unexpected challenges. And it's only after thwarted plans and bitter disappointment that their deepest wish miraculously comes true.
Q: Could you please take a photo of something in your office and tell me the story behind it?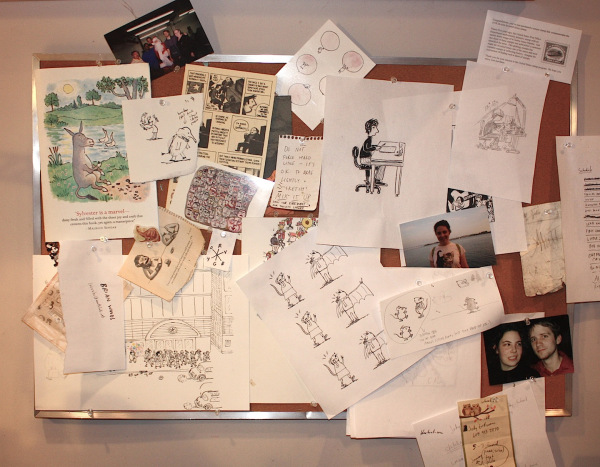 This is a corkboard that hangs in an awkward spot on the wall–kind of hard to reach–between my computer desk and my drawing table. At one point or another over the years, I've tacked up bits of stuff I was working on at the time, images by favorite artists to inspire, and personal photos. Most of the things on the board are ridiculously out of date (I should really put up some photos of my two beautiful children!), but I am rather proud of myself for having the motivation to hang the thing on the wall in the first place.
Q: What advice do you have for young writers and/or illustrators?
I'm not sure how original this is, but I think it's good advice and I wish I had followed it much earlier in my career. Which is this: figure out what makes you unique, interesting, weird, and you. Think about the things that sculpted you in your life, past and present that made you the individual that you are today–your interests, passions, personality quirks, etc. And use this as much as you can in your writing, art, etc. Do not be afraid to let this stuff come out. It's what makes you you and not look like and read like other books that are already in print. It's incredibly hard not to be overly influenced by authors and illustrators from all times (and you will be influenced, and you should embrace that) but you can use that and manipulate it to your advantage too.
Q: What are you excited about right now?
My wife (YA author, Julie Halpern) loves to plan family vacations. I love taking her planned family vacations because she does exhaustive research, plans things out full tilt, and does such an incredible job to insure we get the most of out these trips. We are taking our kids (our daughter's 6 and the boy's 20 months) to Disneyworld this coming fall. Julie updates us everyday on all the stuff we can do together there, how we'll make things work with a toddler, scoring the best deals on stuff, etc. Really looking forward to it. I love books and I love art intensely. But time away with the family is what I really enjoy the most in life.
——
For more insights from book creators, see my Inkygirl Interview Archives and Advice For Young Writers And Illustrators From Book Creators.