Three Questions with Henry Herz: Office Sushi, Advice For Aspiring Writers and Illustrators, and Monster Goose Nursery Rhymes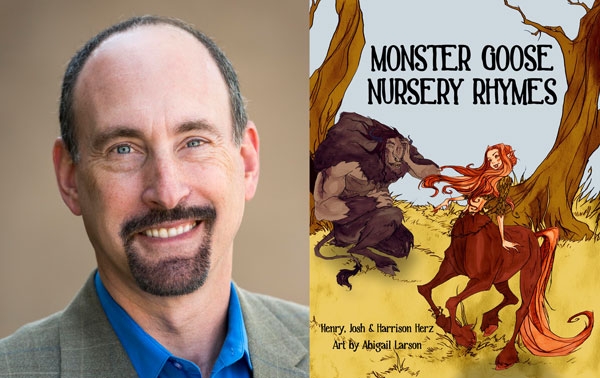 Henry Herz writes fantasy and science fiction for children with his two sons, and his first traditionally published picture book, Monster Goose Nursery Rhymes, launched from Pelican Publishing earlier this year. He is a SCBWI member and hosts a kidlit blog. You can find out more about Henry and his books: Birchtreepub.com – Blog – Kidlit Creature Week – Facebook – Twitter
Synopsis of Monster Goose Nursery Rhymes: Enter an enchanted land of mythical creatures where manticores reign and ogres roar. With a unique twist on traditional rhymes, Monster Goose Nursery Rhymes presents a darker approach to these childhood classics, and yet the sing-song nature of the poems renders them playful and jovial at the same time.
Q. Could you please take a photo of something in your office and tell me about it?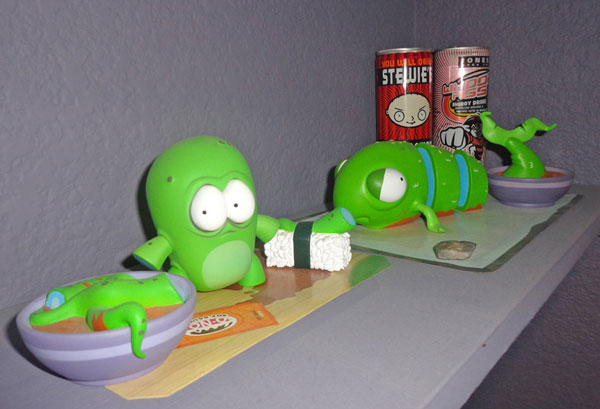 I have a shelf in my office on which I display an assortment of toys and other creatively inspiring objects. In this picture, we see some two sets of O-no-sushi – darkly hilarious vinyl toys. Behind them are two empty soda cans: Stewie's Domination Serum and Whoop Ass energy drink (who doesn't occasionally need a can of whoop-ass?). Lastly, the small pebble is from the Waldon Pond made famous by Henry David Thoreau.
Q. What advice do you have for aspiring young authors and illustrators?
The following advice applies equally to authors and illustrators, young and old (I started my writing career after age 50).
Be tenacious!
1. Never stop honing your craft. Read lots of books. Just as a lion is the product of all the zebras it eats, an author or illustrator is the product of all the books he or she has read.
2. Never stop querying. Now, by that, I don't mean query continuously. What I mean is that even the best authors and illustrators get rejected. So don't let rejection demoralize you. Keep in mind that the publishing world is, in one sense, like dating. What appeals to one person doesn't work for another. Just as you don't stop dating because someone says "no", you don't stop querying because an editor or agent says "no". Remember, J.K. Rowling's Harry Potter was repeatedly rejected. That's like someone turning down a date from George Clooney or Angelina Jolie! The only way you can be stopped is if you give up. Keep on writing/illustrating and keep on querying!
Q. What are you excited about right now?
That's easy! My picture book, Monster Goose Nursery Rhymes, came out in February from Pelican. It's exactly what it sounds like – fractured nursery rhymes with human characters replaced by monsters. The artwork by Abigail Larson is stunning. And the book has garnered some lovely praise from kidlit luminaries like Drew Daywalt, Molly Idle, and Dan Yaccarino.
—
For more insights from book creators, see my Inkygirl Interview Archives and Advice For Young Writers And Illustrators From Book Creators.