Three Questions For Rob Sanders, Children's Book Author: Advice For Young Writers, Desk Shrines & OUTER SPACE, BEDTIME RACE
Continued from Part 1 of my celebration of today's OUTER SPACE, BEDTIME RACE launch…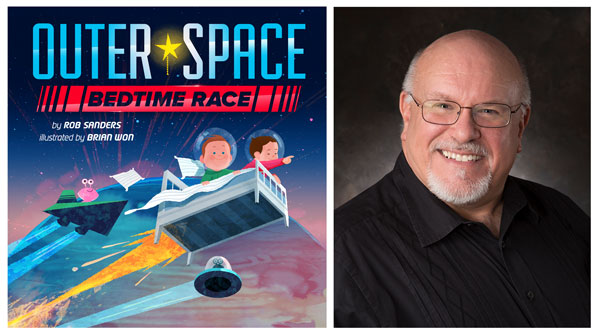 Happy book birthday to OUTER SPACE, BEDTIME RACE, a new picture book written by my friends Rob Sanders and Brian Won, launched today from Random House Children's!
Thanks to both Brian and Rob for answering three questions for me today. In my previous post, OUTER SPACE illustrator Brian Won answered Three Questions. Now it's Rob's turn. 🙂 I first encountered Rob online through his great Picture This! blog for children's book writers. I've since met Rob in person at a SCBWI-LA conference and am also illustrating his new RUBY ROSE picture book series. Super-nice guy and I love his enthusiasm for children's books.
You can find out more about Rob at his website, blog, Twitter and Facebook.
Question #1: Could you please send me a photo of a random object in your office and tell me about it?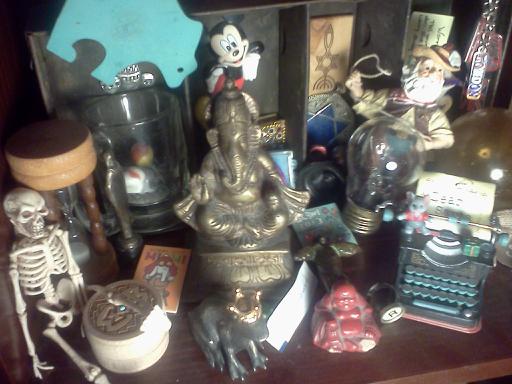 Since I'm bad at following instructions, and since one is never enough—my picture is not of one thing in my office, but my Shrine of the Weird and Wonderful.
This cubby on my desk (just above my computer) houses mementos, well wishes, inspiration, and things that just make me smile. There are religious icons given by friends, a skeleton that reminds me to stick to the basics, a vintage light bulb that reminds me that new ideas are everywhere, a Mickey Mouse magnet—since Mickey was the first iconic American character for kids (in my opinion), fortunes, a frog with a golden crown (just like you have to kiss a lot frogs to find your prince, you have to write a lot of manuscripts to find a story), a small mug of marbles from my childhood (because children are at the center of what I do as a writer), a cowboy Christmas ornament in honor of my first picture book, and more.
Nothing comes out of the Shrine, things can only be added. This little cubby has become my shrine to creativity, to writing, to hopes and dreams.
Q: What advice do you have for young writers?
1. Write. I think most of us spend a lot more time talking, blogging, social media-ing, and thinking about writing than we actually spend writing. Flip that around and you'll find success. Writing is hard, lonely work—but it can also be fun and invigorating.
2. Explore. Try different styles, genres, and voices. Find what works for you. It's the old throwing spaghetti on the wall and seeing what sticks kind of thing. And what ends up working for you might be more than one thing. Don't limit your writing style or your writing opportunities.
3. Read. Know what picture books are out there, which are winning awards, which are breaking new ground. Read classics to know our history. Read current books to know what kids are reading today.
4. Enlarge your circle. Stay in touch with your writing buddies, make new writing friends, meet editors and agents at conferences, friend fellow writing tribe members on Facebook. Get to know people and let them get to know you.
Q: What are you excited about these days?
I am a picture book writer through and through, but I'm really excited these days about a middle grade novel I'm working on. I am working with twenty-three fourth grade students who are critiquing my manuscript chapter-by-chapter—one chapter a day. These insightful kids are exploring character development, pointing out what's not working in the plot, asking tough questions about motives and logic, pointing out word choices that work and ones that don't, and spinning the plot in new directions I never imagined.
Many nights I come home from school, revise the chapter we just critiqued, and type up a new chapter. These kids are inspiring me ("I never thought that was going to happen!"), humbling me ("That doesn't sound like what a kid would say."), and encouraging me to keep writing ("You only brought one chapter today?"). I'm excited to write for this small group of kids, my own focus group, my own critique group in residence.
——
For more insights from book creators, see my Inkygirl Interview Archives and Advice For Young Writers And Illustrators From Book Creators.