Snowman Comic Caption Winner: David Lubar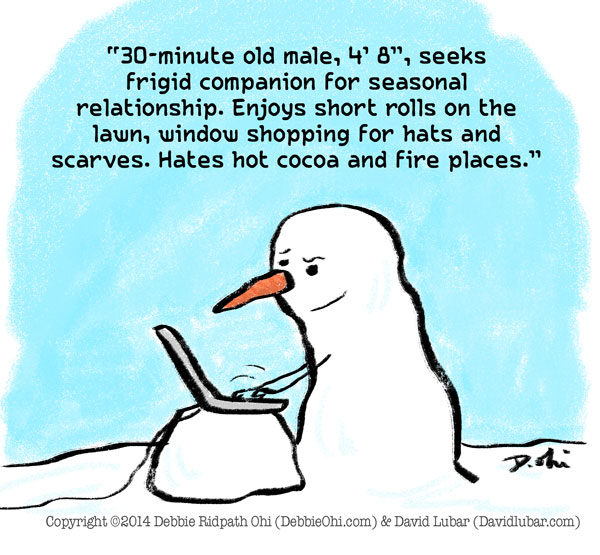 Thanks to everyone who entered my Snowman Comic Caption Contest! So many great entries and quite a few of them would have fit perfectly…SO hard to choose.
Congrats to David Lubar, whose caption I chose for the final comic. David wins a copy of either I'M BORED or NAKED! (his choice), signed by me, inscribed and mailed to anyone/anywhere he'd like, plus a Random hand-drawn/painted doodle by yours truly.
Runners-up, each of whom gets a Random hand-drawn/painted doodle:
"Darn screen is frozen." – Cindy Williams Schrauben
"Frosty enjoyed nothing more than correcting people's grammar on the internet." – Ezra Denney
"I don't snow whether to use my pen name, Robert Frost, or my real name. I wonder if readers will carrot all." – Dee Leone
"Call me Icemael" – Kathy Holzapfel
"That's me as a snowball." – Pamela Ross (and stay tuned for more about Pamela's caption :-))
To David, Cindy, Ezra, Dee, Kathy & Pamela: please send me a FB message or Twitter DM with your contact info? Please start your msg with "COMIC PRIZE" to make sure I see it (I tend to get a lot of Kickstarter, auto-mailings & other requests).
You can read other caption suggestions on Twitter and Facebook. Here are just a few of my other favourites (apologies if I left out duplicate credits; there were a bunch of similar themes :-)):
"Oh, this is heating up! I'd better finish before I melt." – Sandra Gulland
"Google search: 'smart gloves'" – Lori Nichols
"It was a dark and snowy night…" – Jo Karaplis and Susan Pace-Koch
"Dear Bill Nye, what can I do to help stop global warming?" – Sue Jeffers
"Honey, I'll be done surfing the net soon, then you can have your head back." – Jim McMahon
"This ending will make their hearts melt!" – Kelly Bingham
"Throwback Thursday: Yes that was me once upon a time. I was just a flake." – Lindsay Brennan
"My writing today is abominable." – Henry Herz
"Missed Connections: Lost my old silk hat. Although life does surprisingly go on, you are missed. Thumpity thump thump just isn't the same without you." – Marcie Colleen
"Frosty's family was unable to cope with his winternet addiction." – Dan Hoffman