Guest Post from Paper Lantern Lit Co-Founder Lexa Hillyer: Character WANTS and NEEDS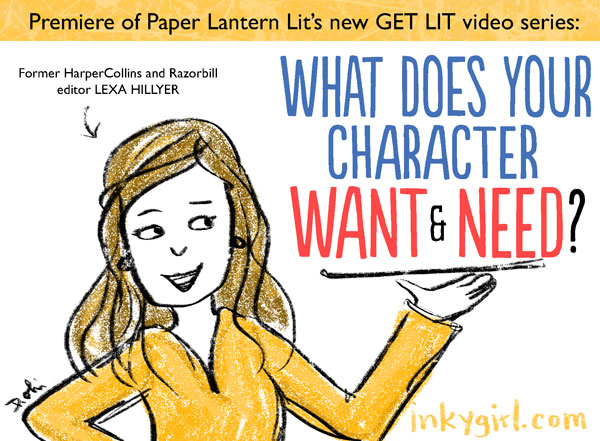 From Debbie: Thanks to Paper Lantern Lit for letting Inkygirl premiere their new series of GET LIT videos. In this video, YA author Lexa Hillyer talks about how to establish the right WANTS and NEEDS for your characters:
Hello from Paper Lantern Lit, the "story architects!" We're so excited to premiere our new video series, Get Lit, on InkyGirl. Each Get Lit video will explore the blueprints to each of PLL's secrets of the storytelling trade.

http://www.paperlanternlit.com/
In this video, watch PLL Co-Founder (and author of PROOF OF FOREVER, out June 2015!) Lexa Hillyer talk about the Wants and Needs of characters, and how they form the essential basis on which to build your story. We hope these videos will be helpful to aspiring writers– especially all of you prepping for NaNoWriMo tomorrow!
If you missed the introduction to Get Lit featuring PLL Co-Founder and New York Times bestselling author Lauren Oliver (The Delirium Trilogy, Panic, The Spindlers) click here.
You can subscribe to the Get Lit videos here, and never miss an update.
If you want more content like Get Lit, check out PLL's Blog! We post lots of info for writers in our Toolbox series, which breaks down different parts of the storytelling craft.
On Monday November 3rd, check out Fic Fare for the next Get Lit video, and become the architect of your BEST story!