#BookADay: MISS MAPLE'S SEEDS by Eliza Wheeler @wheelerstudio, advice for picture book writers/illustrators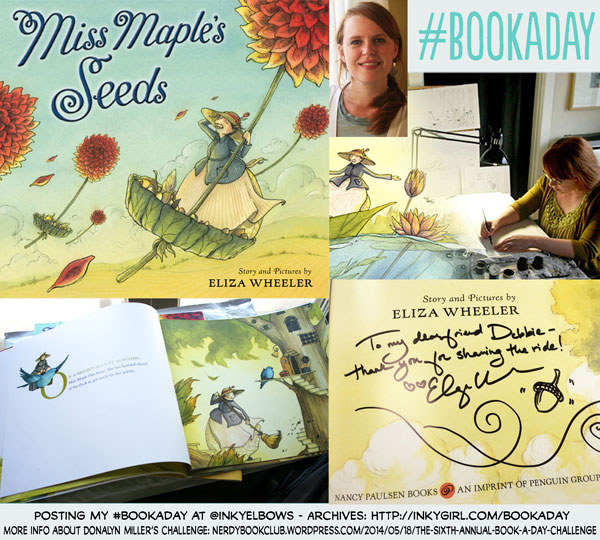 I've fallen a bit behind in my #BookADay posts because of my work schedule, but plan to catch up soon. Perfect for a relaxing Canada Day #BookADay: MISS MAPLE'S SEEDS by my friend Eliza Wheeler (Nancy Paulsen Books/Penguin, 2013). Eliza and I met when we were both picked for the 2010 SCBWI Illustration Mentorship Program, and we've been friends ever since. I'm looking forward to rooming with Eliza next month at the SCBWI-LA convention!
Miss Maple's Seeds has absolutely gorgeous artwork, and such a comforting and inspiring story. My favourite quote: "…Even the grandest of trees once had to grow up from the smallest of seeds."
"Fans of Miss Rumphius will adore this gorgeous picture book which introduces the kind, nature-loving Miss Maple, who celebrates the miracle in each seed. Miss Maple gathers lost seeds that haven't yet found a place to sprout. She takes them on field trips to explore places to grow. In her cozy maple tree house, she nurtures them; keeping them safe and warm until it's time for them to find roots of their own, and grow into the magnificent plants they're destined to become. Eliza Wheeler's luminous paintings feature gorgeous landscapes, lush foliage and charming details. Her tender story celebrates the potential found in each seed—since even the grandest tree and most brilliant flower had to grow from the smallest of seeds. Celebrate every season with Miss Maple, from Earth Day to graduations to harvest festivals. "
I interviewed Eliza last year on Inkygirl.com about MISS MAPLE'S SEEDS and her illustrations for Holly Black's DOLL BONES; do check it out for the story of how Eliza and I met, her work process, and advice for aspiring picture book writers and illustrators.
Some of Eliza's excellent advice:
1) Be patient while you build up your body of work. Just focus on your craft, and leave the business side of storytelling for later; for when your work is REALLY good.
2) Create the kind of work that your kid self would have loved. Be your own audience, and always ask yourself "If someone else made this, would I read it? Would I put it up on my wall?". It seems obvious, but more often than not when I ask myself this question, I'm surprised to think "no".
3) Read, read, read. Whenever I'm stuck with my storytelling I read. I get new ideas or answers to existing stories when I read. And don't just read in your genre. A friend lent me Aimee Bender's adult novel The Particular Sadness of Lemon Cake, and I was distracted through the entire thing because every single time I sat down to read that book, a particular story I was working on would come to me in waves. I don't know why that was, but certain books will do that, and I've learned that it's a really great thing.
———
More info: Donalyn Miller's Summer Book-A-Day Challenge | Archives of my #BookADay posts.