BookADay: THE STAMP COLLECTOR by Jennifer Lanthier and François Thisdale, advice for children's book writers & illustrators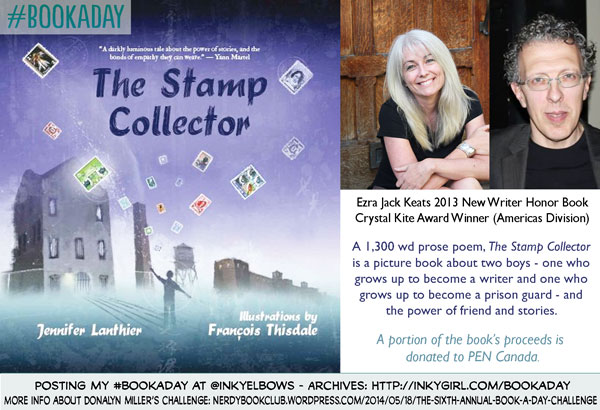 Today's #BookADay: THE STAMP COLLECTOR, written by Jennifer Lanthierand illustrated by François Thisdale (Fitzhenry & Whiteside, 2012). Beautiful story, stunning artwork. A note by Jennifer at the end explains how the story was inspired by two writers. "Jian Weiping is a journalist who spent six years in a Chinese prison for exposing government corruption. Nurmuhemmet Yasin is a writer serving ten years in a Chinese prison for writing a short story called 'The Wild Pigeon.'" A portion of the proceeds from this book supports PEN Canada.
You can read a profile of Jennifer on the SCBWI blog about her 2013 Crystal Kite win, including advice for other children's book writers and illustrators. An excerpt:
"…Creating something is an extraordinary privilege and if exercising that privilege feels too hard sometimes, try to keep going. What did Samuel Beckett say? "No matter. Try Again. Fail again. Fail better."
More info: Donalyn Miller's Summer Book-A-Day Challenge | Archives of my #BookADay posts.