#BookADay: SAY HELLO TO ZORRO! by Carter Goodrich, plus a peek into his illustration process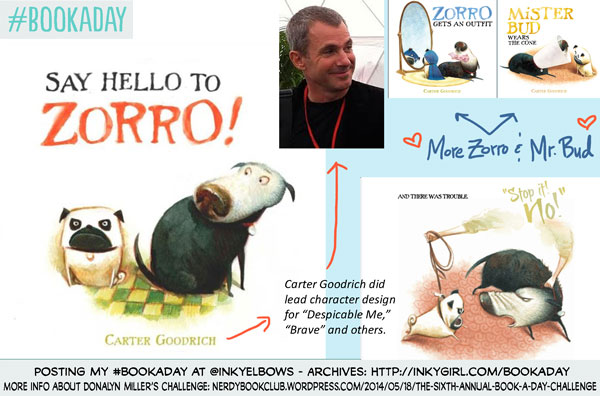 Catching up on my #BookADay: SAY HELLO TO ZORRO! by Carter Goodrich (Simon & Schuster Books For Young Readers, 2011). The two dog characters in this story are soooooo adorable. And I was very excited to discover that MISTER BUD WEARS THE CONE just came out!
According to a Readeo.com interview, Zorro was apparently loosely based on his aunt's pug. The pug's name was Ozzie but Carter has dyslexia, so called him Zorro. Carter used watercolor for the illustrations, which was new for him.
"The best part of an image is the part I couldn't control, the happy accident. When something strange would happen in a piece, it would always be better than something I might purposefully do. Like when Zorro is shifting position on the couch. I did a lot of takes on that. I was still working with pencil and trying to shape it and tone it. I thought, "I have to paint the couch really quickly, and it's either going to hit or not." There are little things where the paint did everything on its own,. But then I had to repeat it. And that was alright, too. It wasn't as hard as I thought it would be."
Read more about Carter's process in Jenny Brown's interview with him on Readeo.
And check out the cover of the just-released Mister Bud Wears The Cone: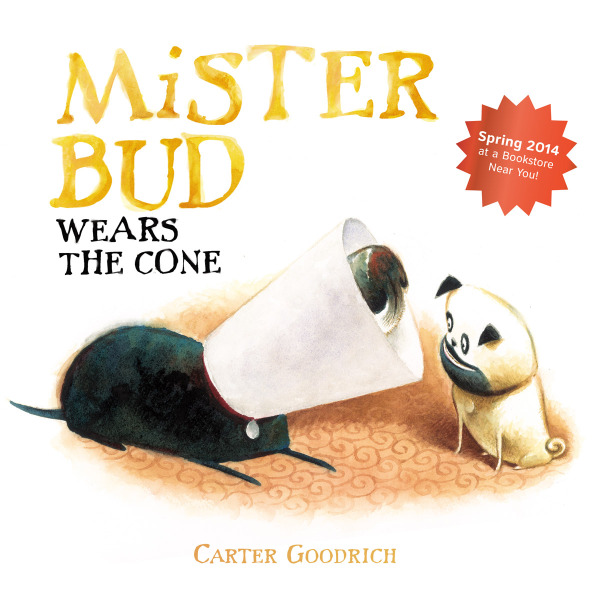 More info: Donalyn Miller's Summer Book-A-Day Challenge | Archives of my #BookADay posts.