Happy New Year's! Plus thoughts on New Year's Resolutions, time management and finding focus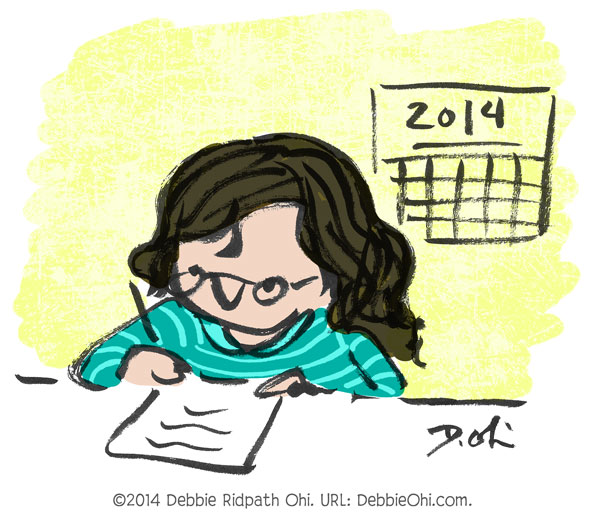 Above: Quickie sketch experiment — First I did the ink drawing by hand using a Pentel Pocket Pen Brush on sketchbook paper. Then I scanned it, imported into Photoshop, and digitally colored the drawing.
Happy New Year's, all! Apologies for the hiatus. Between the Toronto ice storm (we were one of the households that lost power) and work (auditioning for a veryveryvery cool book-related project; please cross your fingers for me!), I didn't have time to do much blogging.
For 2014, I've decided not to post any specific resolutions except for one: Strive for focus.
Those of you who have been following my various blogs over the years already know that I have a wide variety of creative interests. Some come and go while others have remained constant. My challenge: there are WAY too many things I want to do and learn to do well, but not enough time. Plus I tend to be prone to the "ooo shiny" reaction when I come across cool and inspiring things. Which, um, is often.
This year, I have a pretty intense work schedule in terms of book writing and illustration work. I'm very excited about it all and want to find ways to be more productive. Don't get me wrong: I strongly believe in the importance of CREATIVE PLAYTIME, but I also think that I have way too many creative playtime interests at present.
This year, rather than try to do them all and just feel frustrated and scattered, I'm going to deliberately cut back on my usual "going to find time to do more xxxx this year" goals as well as cutting back on related Physical Stuff.
Like:
SEWING STUFF – Back in 2008, I decided to learn how to use a sewing machine and a serger (I won the latter in a raffle and had no idea what it was at first), learn how to sew my own clothes, make all kinds of cool sewing thingies, blah di blah blah. Years later, I am having to admit to myself that I simply Don't Have Time. So I just gave away my serger, dressmaking form, and am also giving away most of my sewing notions, extra fabric, and throwing out all the partly-finished projects I abandoned a while back. Keeping my one simple sewing machine, though. 🙂
CRAFT STUFF – I am a craft supplies addict, I admit it, and am inexorably drawn to the sales at local craft shops. I have accumulated jewelry-making notions, beads, glues, rubber stamps, inks, different types of paint, scrapbook stuff, glitter etc. etc. over the years. To make more room for my sketchbooks, drawing materials, mini photo studio (a Christmas gift from Jeff, for my found art doodles), higher-end printer, watercolors and other materials more directly related to my current work, I am also giving away boxes of other craft stuff.
I did a huge office purge over the holidays, and am pretty happy with the result so far.
Next step: Reduce my online clutter and distractions to improve focus and productivity. I've already found some great tools and tips, and will be sharing this over the coming year, in case it helps anyone else.
Anyone else have a New Year's Resolution they'd like to share? Or tip on focusing?