See MY INTERVIEW in the 2014 Children's Writer's & Illustrator's Market, yay! (and what I wish I could tell my younger self)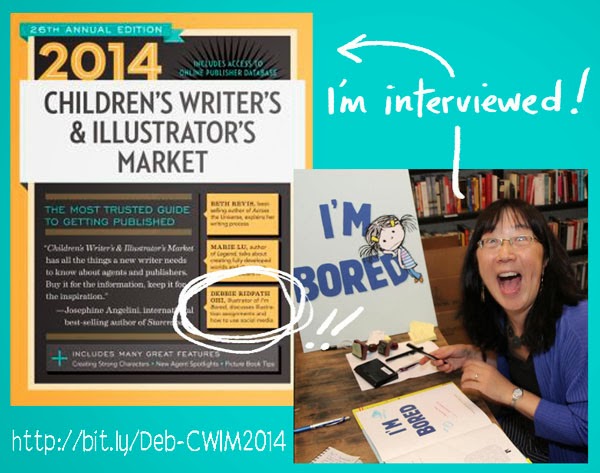 The 2014 Children's Writer's & Illustrator's Market is now on book shelves, and includes AN INTERVIEW WITH ME!! I'm pretty thrilled.
I've been buying this annual guide for many years, not just for the great info about children's book publishers and other markets, but also because of the excellent interviews and advice for pros in the industry….so actually being mentioned in the book as well as ON THE FRONT COVER (thanks to my friend Carolyn Dee Flores for pointing out the latter) this guide is way exciting for me.
I'm also SO flattered to be included in the blurb description about the book, especially considering the other names mentioned. An excerpt:
"Interviews with some of today's hottest authors and illustrators, including author R.L. Stine (the Goosebumps series), author Marie Lu (Legend), author Beth Revis (Across the Universe), and illustrator Debbie Ridpath (I'm Bored, written by Michael Ian Black)."
How cool is that?!?
Wish I could send that paragraph back to my younger self to help take the edge off all those rejection letters.
Anyway, thanks so much to Ricki Schultz for interviewing me and to Chuck Sambuchino for editorial guidance.
More info about the book on the Writer's Digest website.
Photo of me at I'm Bored signing courtesy Walter Korynkiewicz.