My sister's book: KENTA AND THE BIG WAVE (Annick Press) available on Netgalley for review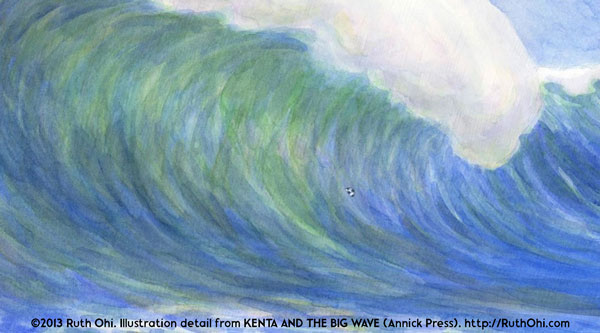 Can you see that tiny soccer ball in the middle of the wave?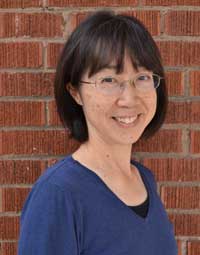 As some of you already know, my sister Ruth Ohi (photo to the left) is an experienced children's book writer and illustrator who has been encouraging and supporting me over the years.
She has TWO new picture books coming out this year:
KENTA AND THE BIG WAVE, which comes out from Annick Press in a couple of weeks, and FOX AND SQUIRREL, which launches from Scholastic Canada this September. Kenta is now available on NetGalley for reviewers.
I'll be interviewing Ruth later this year but right now I'd like to rave about KENTA AND THE BIG WAVE: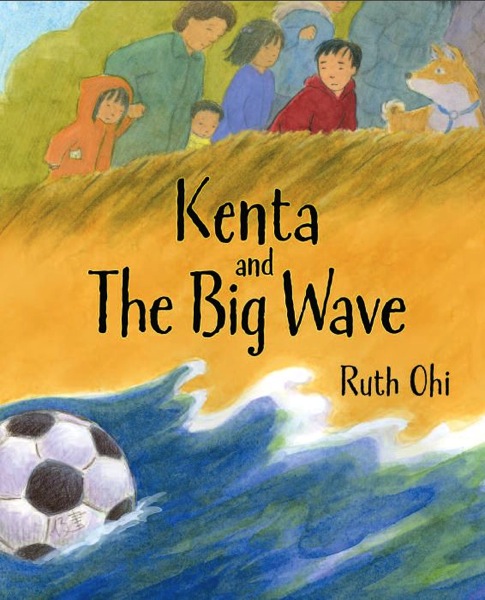 I was fascinated when Ruth told me about a real-life event that (along with other similar reports) helped to inspire the story: Apparently after a soccer ball washed shore in Alaska after the Japan tsunami in 2011, Japanese teen Misaki Murakami came forward as the owner of the ball. More than 3,000 homes were destroyed in Misaki's home city of Rikuzentakata. You can see blog updates by the NOAA technician who found the soccer ball, including info from the teen once they got in touch.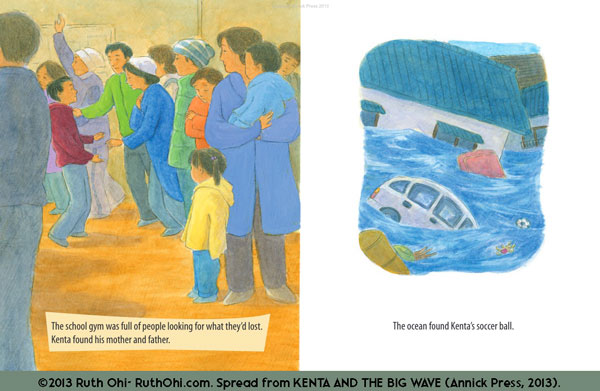 I had the chance to see one of the advance copies of KENTA AND THE BIG WAVE and loved it. Such an uplifting, inspiring story! And the gentle illustration style that Ruth used for this book is perfectly suited to the content.
A quote from a review on Snips and Snails and Puppy Dog Tails:
"I would fully recommend this book for any child (or adult!). It tells the story of the 2011 tsunami that hit Japan, and how a boy lost his ball in it and how a boy in America found it and mailed it back to him. There's very little text, but more isn't needed. Kenta and The Big Wave successfully conveyed that bad things do happen in life, but that people can get over them. The bad things could be small, like losing your ball, or big, like losing your home in a disaster (Kenta lost both), but in the end everything turned out okay. An important message for kids to see."
Here's a brief synopsis, from the Annick Press website:
————–
The tsunami has swept everything away–including Kenta's most prized possession.
When tragedy strikes Kenta's small village in Japan, he does all he can to hang on to the things that matter to him most. But amidst the chaos of an emergency evacuation brought on by the tsunami, Kenta and his family must quickly leave their home.
Climbing to safer ground, Kenta watches as his prized soccer ball gets swept away by the waves, never to be seen again… that is, until it washes up on a beach on the other side of the world, into the hands of a child who takes it upon himself to return the ball to its rightful owner.
Ruth Ohi's art transports the reader to Japan, capturing the tragic aftermath of environmental catastrophe, while offering a reassuring message of hope. With an afterword that defines tsunamis for young readers.
—————
You can find out more info here:
My sister's website: RuthOhi.com
KENTA AND THE BIG WAVE on NetGalley
Also see Debbie's Reading Journal as well as Debbie's Bookstagram.