Interview: Tim Federle on Writing, Editorial Process and BETTER NATE THAN EVER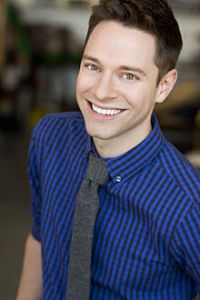 I recently read (and loved) Tim Federle's BETTER NATE THAN EVER, which came out from Simon & Schuster Books For Young Readers earlier this year. Here's my MicroBookTweet, in case you missed it. I especially recommend it for those who have been teased for being different and could use encouragement for pursuing their own Big Dreams.
Tim grew up in San Francisco and Pittsburgh before moving to New York to dance on Broadway. His debut novel, BETTER NATE THAN EVER — described as "Judy Blume as seen through a Stephen Sondheim lens" by Huffington Post — was named a New York Times Book Review Editors' Choice and an Amazon Best Book of the Month. TEQUILA MOCKINGBIRD: COCKTAILS WITH A LITERARY TWIST, Tim's novelty recipe guide, was called "pun-tastic" by Epicurious and "a joy" by the London Evening Standard.
About BETTER NATE THAN EVER:
Nate Foster has big dreams. His whole life, he's wanted to star in a Broadway show. (Heck, he'd settle for seeing a Broadway show.) But how is Nate supposed to make his dreams come true when he's stuck in Jankburg, Pennsylvania, where no one (except his best pal Libby) appreciates a good show tune? With Libby's help, Nate plans a daring overnight escape to New York. There's an open casting call for E.T.: The Musical, and Nate knows this could be the difference between small-town blues and big-time stardom.
Where to find more about Tim Federle: Website – Twitter
Q. What's your writing process? What was your writing process for BETTER NATE THAN EVER?
Usually title comes first and then the characters follow. Plot is last. Writing a book is like going on a cross-country road trip, and so I've gotta know upfront who's riding shotgun. And for BETTER NATE THAN EVER, once I settled on E.T.: The Musical as Nate's central goal, it gave me the burst of giddy energy to write the first draft in a month. (I didn't eat much. Or shower.)
https://youtube.com/watch?v=wyQyPfkLG5E
Q. Do you outline first, or plunge right in?
My outline for BETTER NATE THAN EVER was really, really simple. Like, literally: (1) boy gets on bus to (2) go to an audition for a big musical in New York but (3) things go awry and (4) he should eat a lot of donuts along the way, just because. But for the sequel, I did more up-front planning. My secret plotting weapon is the late great Blake Snyder's "beat-sheet," developed for screenplays and found in his SAVE THE CAT book.
Q. How did BETTER NATE THAN EVER get published?
Tim's agent, Brenda Bowen(Greenburger Associates)With a great deal of luck. I'd done all the reading you can do about how to get an agent (AgentQuery.com, Nathan Bransford's genius blog, etc.), but my agent actually found me, right before I was about to query the universe. I'm represented by Brenda Bowen, who read some of my earliest writing, which had been slipped to her by a mutual friend. Brenda reached out to me to say: "You could write for kids, and you should." I trusted her. She's a former editor, and gave me some terrific notes on the first draft of BETTER NATE THAN EVER ("His grandparents cannot be eaten by lions, Tim," was my favorite), and then off it went into the world.

David Gale at Simon & Schuster was the perfect editor for this project. He gets realistic fiction, he gets diversity, he got me. And, more importantly, Nate.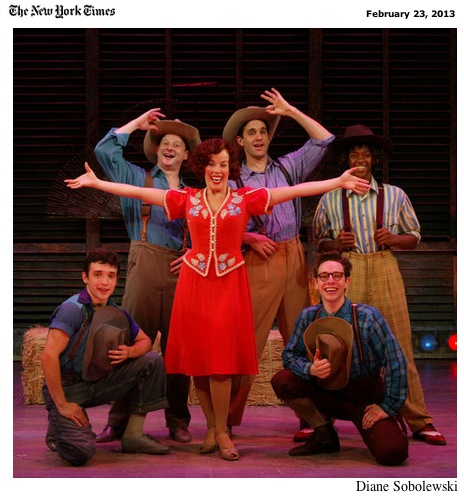 Tim Federle, lower right, with other members of the cast of "Babes in Arms" in East Haddam, Conn., in 2002. (NY Times)
Q. What was the editorial process like?
David Gale is a remarkably trusting editor. For BETTER NATE THAN EVER, he asked a few key questions and prodded gently at one overarching theme–that Nate relied too heavily on his best friend, Libby, in the first draft–but otherwise, David let my voice be my voice. Before his long tenure as an editor, David was a children's books reviewer; he really knows how to help an author tell the story he meant to tell. And in terms of timeframe, it was…quick. Like, really quick. I began the first draft of BETTER NATE THAN EVER on March 1st, 2011, and less than four months later, we had an incredibly lucky sale. (Though it took me approximately 30 years to acquire all the Broadway references in the book…)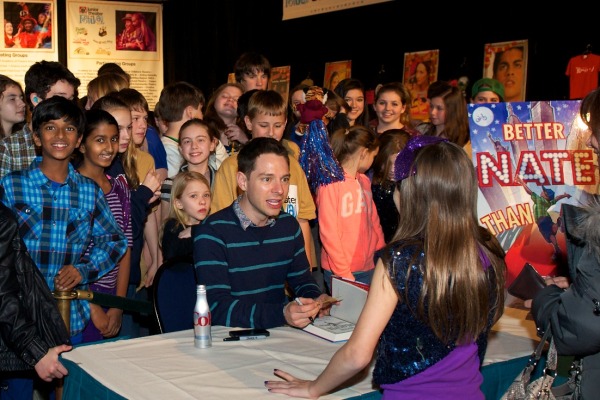 Q. What advice do you have for aspiring tween writers?
Aspiring tween writers: Get out of your comfort zone.
When I was your age (he said, waving a pipe), allllll I wanted to do and all I was ever going to be was a Broadway dancer. And then I moved to New York and I got to do that for a long time, and when it came time to follow my second calling, which was writing, I felt intimidated by people who'd had far broader life experiences.
Do you hate public speaking? Push yourself to do it. Do you struggle with foreign languages? Do you think history class is a bore? I did too, on both counts, and it's limited my writing at times. Try to find your own way in to things that feel too dense to access.
And my number one piece of writing advice: don't edit as you go. That's what worked for me, at least, because typing The End — even if your first draft kinda sucks — is very liberating.
Also: get through English class but know that the real world just wants a good story, and isn't as worried about brilliantly placed semi-colons and properly argued theses. Those are important for your toolbox, but don't get bogged down or overwhelmed with "the rules" of writing. There are no rules. Only the ones that help you tell the story that only you can tell.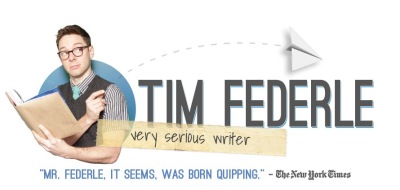 Q. What are you working on now? Any other upcoming events or other info you'd like to share?
FIVE, SIX, SEVEN, NATE!, the sequel to BETTER NATE THAN EVER, is in bookstores this coming January (2014). And Running Press recently published my literary cocktail guide, called TEQUILA MOCKINGBIRD (think: Are You There God? It's Me, Margarita), that is decidedly NOT for kids.
Where to find more about Tim Federle: Website – Twitter
TWEETABLE:
Advice for young writers via @TimFederle (BETTER NATE THAN EVER) http://bit.ly/BetterNate — (Tweet this)
Interview w/former Broadway dancer @TimFederle about writing BETTER NATE THAN EVER @SimonKids: http://bit.ly/BetterNate (Tweet this)
——-
For more insights from book creators, see my Inkygirl Interview Archives and Advice For Young Writers And Illustrators From Book Creators.