Publishing with Skyscape/Amazon Children's: An Interview With Leslie Stella, YA author of PERMANENT RECORD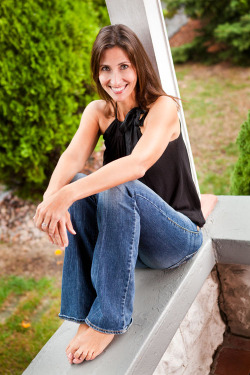 Leslie Stella is the author of three novels of contemporary adult fiction and (launching this week!) her first novel for young adults, Permanent Record, Amazon Children's new Skyscape imprint.
Plot summary for Permanent Record:
For sixteen-year-old Badi Hessamizadeh, life is a series of public humiliations. After withdrawing from school under mysterious circumstances, Badi enters Magnificat Academy. To make things "easier," his dad has even given him a new name: Bud Hess. Bullied and misunderstood, Bud is an outcast who copes by resorting to small revenges and covert acts of defiance, but the pressures of his home life, plummeting grades, and the unrequited affection of his new friend, Nikki, prime him for a more dangerous revolution. Strange letters to the editor begin to appear in Magnificat's newspaper, hinting that some tragedy will befall the school. Suspicion falls on Bud, and he and Nikki race to uncover the real culprit and clear Bud's name before it is too late.
Q. Congrats on your upcoming Amazon Children's book, PERMANENT RECORD! How did the project happen?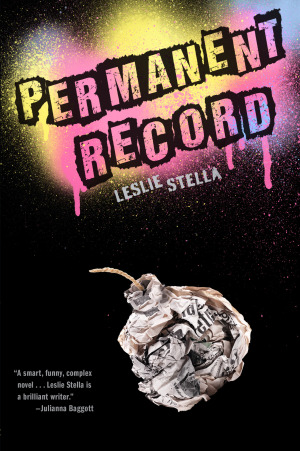 e short answer is, "I wrote the book in about 6 months, and it sold in about 6 months." The long answer is, "It took me 8 years to write this book, and 8 years to get it published." My publishing history is an interesting one and provides a cautionary tale for authors who think they only need to get an agent or sell one book in order to have made it.
I had three novels of contemporary adult fiction published between 2001-2005. After that I wrote three more novels that went nowhere and still haunt my hard drive. In fact, there was a very dark day in November 2005, where I woke up as the author of three published novels awaiting word on the acquisition of my fourth, and went to bed having been dumped by both my publisher and my agent. No contract and, as it seemed then, no future.
I made mistakes: I wrote trying to appease the market, for one thing. I wrote trying to appease my publisher. I wrote without much thought about what I wanted to write, but only about what I thought others wanted to see, or what would sell. Guess what? It didn't sell! By the time 2010 rolled around, I had given up on ever being published again. But I had not given up on writing. So I wrote the book I wanted to read, and that was PERMANENT RECORD. And that's the book that sold.
Q. How did you sell PERMANENT RECORD?
My fantastic agent, Lucy Childs with the Aaron Priest Literary Agency, had originally sold the book to Marshall Cavendish Children's Publishers in summer of 2011. In 2012, Marshall Cavendish Children's was acquired by Amazon Children's Publishing—a brand-new publishing division of Amazon. We Marshall Cavendish authors (including their entire backlist and upcoming titles like mine) just went with the flow. This year, Amazon Children's has divided up into two imprints, Two Lions (which publishes picture books and books for young readers) and Skyscape (my publisher, which is dedicated solely to young adult books). Publishing is a constantly changing industry, never more than today.
Q. What has working with Amazon Children's been like?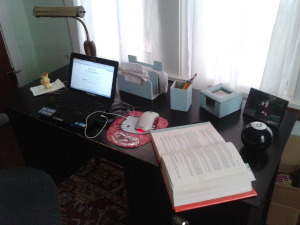 Leslie's workspace. "My "office" is in the foyer of my house. There's a box of ARCs shoved behind my desk, you can just see them peeking out."I was lucky to keep my same editor from Marshall Cavendish, Robin Benjamin. I believe that all the Marshall Cavendish authors continued working with our own editors after the acquisition, so editorially speaking, it was pretty seamless. Robin and I still worked together on the manuscript just as we had begun to do before Amazon bought the imprint. Robin is really a superb editor, and her edits and suggestions made PERMANENT RECORD a much better, tighter novel. I am definitely a writer who needs an editor; it is too hard, after working on something for months or longer, to see the work as it is, or as it should be. Robin is diplomatic and intelligent; she could see what was working in terms of pacing and characterization and what wasn't, and her suggestions were all spot-on. I cannot overstress the importance of professional editing! With the right editor, you gain a partnership that will only improve your book.
It has been wonderful working with the whole Amazon Children's team, particularly my publisher, Tim Ditlow. They are so hands-on and so personally invested in the success of their list. The vision they have for the future of publishing is strong and current and, most of all, rooted in a love of books.
| | |
| --- | --- |
| How I determine major plot points." | "Does it work?" |
Q. What's next for you?
YA is where I feel that I belong and where I want to stay. I have finished my next YA novel, and I will post publication info about it on my website when the contract is final. In the meantime, I post embarrassing stories about myself on my website and Facebook.
Q. Where can people find you?
I am always glad to hear from readers, and I write back to everyone.
Website: www.lesliestella.com
Twitter: @leslie_stella
Facebook: www.facebook.com/LeslieStella11
For more insights from book creators, see my Inkygirl Interview Archives and Advice For Young Writers And Illustrators From Book Creators.