Interview with Lena Coakley, author of WITCHLANDERS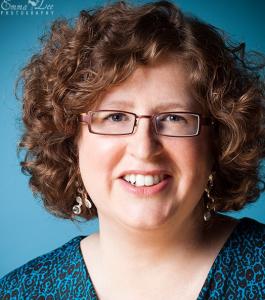 Photo: Emma-Lee Photography
I met Lena Coakley through the Torkidlit: Toronto Middle Grade and YA Author Group, and have been excited to see all the praise that her debut novel WITCHLANDERS, published by Atheneum/Simon & Schuster Children's, has been getting from Kirkus Reviews (starred review), Publishers Weekly (starred review), School Library Journal (starred review) and other respected publications. The book also won the 2012 SCBWI Crystal Kite Award for the Americas Region and is a Junior Library Guild selection.
Here's a plot summary of Witchlanders:
High in their mountain covens, red witches pray to the Goddess, protecting the Witchlands by throwing the bones and foretelling the future. It's all a fake. At least, that's what Ryder thinks. He doubts the witches really deserve their tithes—one quarter of all the crops his village can produce. And even if they can predict the future, what danger is there to foretell, now that his people's old enemy, the Baen, has been defeated? But when a terrifying new magic threatens both his village and the coven, Ryder must confront the beautiful and silent witch who holds all the secrets. Everything he's ever believed about witches, the Baen, magic and about himself will change, when he discovers that the prophecies he's always scorned— Are about him.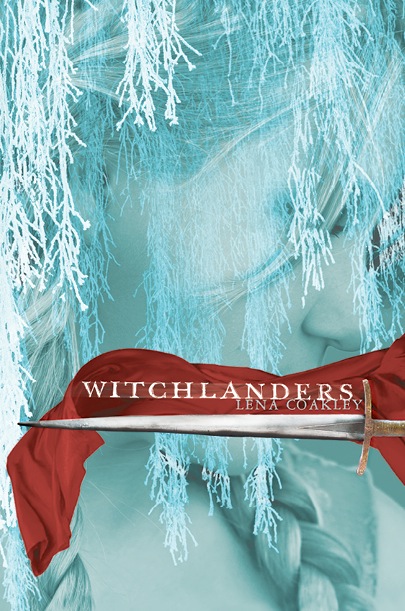 Q. What was the writing process like? How long did it take?
Witchlanders was a labour of love. It took me ten years to write—eight years on my own, and two years working through three critique letters with my wonderful agent, Steven Malk of Writers House. Of course, one of the reasons it took me so long was because it was my first novel and I had no idea what I was doing.
I didn't have an outline—when I started out, I didn't really know enough about structure to make one—so instead I kept revising and revising until a structure began to emerge. I have to say, I don't really recommend this method because it takes forever! For the book I'm writing now, I have a detailed outline. I've learned my lesson!
Q. How detailed is your outline? Could you please tell us more about your outlining process?
I use the screenwriting guru John Truby's methods; here's a picture of the outline for my current work-in-progress.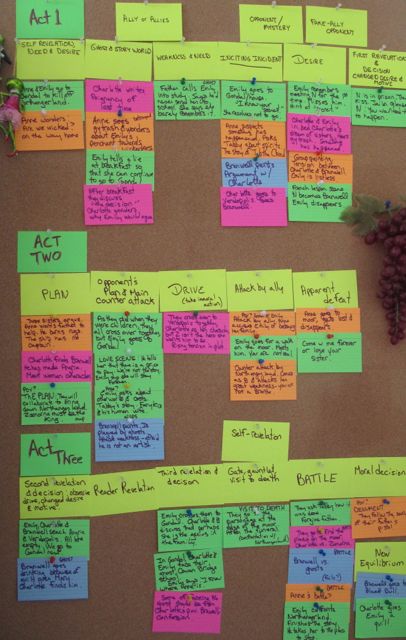 I've written a short synopsis of each scene on individual file cards, which are then organized into rows underneath the plot point they correspond to such as the inciting incident, the opponents' plan and counter attack and the final battle.
Q. I love how detailed and real your world-building is in Witchlanders. What's your world-building process?
People often ask me about the worldbuilding in Witchlanders because they find the two countries in the book, the Witchlands and the Bitterlands, so intricate and detailed. Because worldbuilding comes naturally to me, it's difficult for me to articulate how I created these places.
It's funny; plot is something that I've had to learn, and so story structure is something I can talk about. I have a vocabulary for it because to understand it I've had to read books and talk to other authors. All I can say about worldbuilding is: It's important to walk your world. What I mean by that is, it's important to lie in your bed or sit in your chair imagining every corner of it –the culture, the ecosystem, the religions, the people. I spent a lot of time thinking about places and people that never ended up in my book. Friends and family might think this looks like lazy daydreaming—but we authors know better!
How do you keep track of all these world-building ideas as they come to you?
I haven't really come up with a way to organize these ideas other than writing long lists, which isn't very practical. I know many authors create something they call a "world bible" that they use as a reference tool. I'm sure that if I ever write a series I will have to create one of these because there is no way I will be able to keep all my world-building elements straight in my head.
Above: Wattpadd interviews Lena at S&S offices.
Q. If you could go back in time and give your young writer self some advice, what would it be?
I think the young writer I was just had to learn by doing, so I'm not sure what sort of advice would have been helpful. Certainly, every bit of encouragement I received over those ten years was worth its weight in gold.
Writing is a lonely business, so I think if I could go back in time, I'd probably just say: "You can do it. I know it seems like this novel will never be finished, but if you put one word in front of the other, sentence by sentence, chapter by chapter, the miracle will happen. You'll finish a book." And if anyone reading this is mired in the morass of their first novel, that's what I'd say to them, too.
Q. Did you get any rejections when you started submitting your writing? If so, do you have any advice for writers about how to cope with rejections?
Of course I got rejections! When I was looking for an agent, my trick was to send out a batch of five queries and then immediately choose what the next batch of five was going to be. I tried to convince myself that it would actually be a good thing to be rejected because the second batch was even better than the first. Of course, sometimes the rejection just gets you down. I took a break from querying when I knew that a negative response was going to make me too depressed to write.
Q. Would you like to share anything about your current/upcoming projects?
I'm pleased as punch about what I'm working on now. It's a YA fantasy about the young Brontë siblings and the characters they wrote about in their juvenilia. I can't say too much about it—I'm afraid even the title is up in the air—but I'm happy to report that it will be published in 2014 by Abrams in the US and HarperCollins in Canada.
Other places you can find out more about Lena and her work:
Lena Coakley on Twitter (@lenacoakley)
For more insights from book creators, see my Inkygirl Interview Archives and Advice For Young Writers And Illustrators From Book Creators.