Interview with TYPE Books owner + I'M BORED launch info
If you haven't seen it already, check out this wonderful stop-motion video that Sean Ohlenkamp (Lowe Roche) created, called "The Joy Of Books", with the help of 25 volunteers over four nights:
Thanks SO much to Type Books for hosting my illustrator I'M BORED Book Launch. The launch will take place this coming Tuesday: Sept. 18th, 6-8 pm at TYPE's Queen St. location (883 Queen St. W., 416-366-8973). You can find out more info and RSVP at the Facebook event page for the I'M BORED Launch. To Michael Ian Black fans: please note that the author will NOT be there — it'll just be me. 🙂
Type Books owner, Joanne Saul, was kind enough to answer a few questions for me about the bookstore.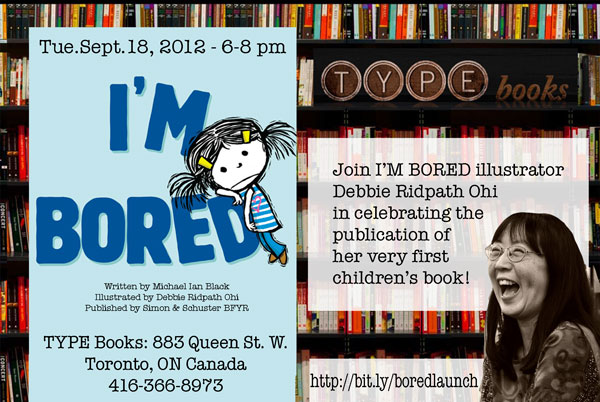 Q. How did TYPE Books get its start?
TYPE was started in 2006 by my partner Samara Walbohm and myself. We met doing our PhDs in CanLit at the University of Toronto. We would often daydream in the stacks at Robarts library about what we might do if we didn't go the academic route. TYPE was one of those dreams.
We call ourselves a friendly neighbourhood bookstore and we mean it. We stock local authors' books. We launch them too. We host events for local writers. We have strong relationships with local publishers. We have a gallery in our basement where we show the artwork of neighbourhood artists. We have a storytime for neighbourhood kids. We host a love of reading and writing program in our basement called "Word-Play." We have kids from four local schools come to the store twice a week for a full program. We're very proud of the work it does.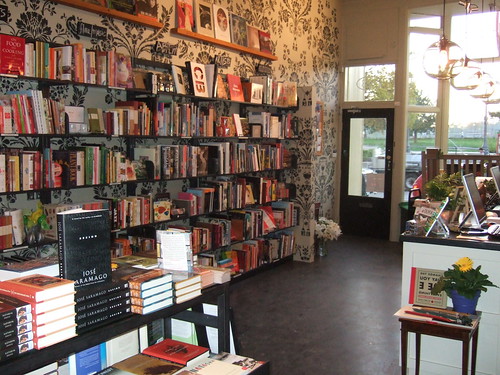 What's the best part of of being a bookstore owner? What's the most challenging?
The best part of being a bookstore owner is meeting new people and establishing relationships with customers (and authors and publishers). I love interacting with my regular customers and talking about what they're reading.
I love the feeling of community in both the stores. It's a true joy to be able to put the right book in the right person's hands.
The worst part of owning a bookstore is paying the bills.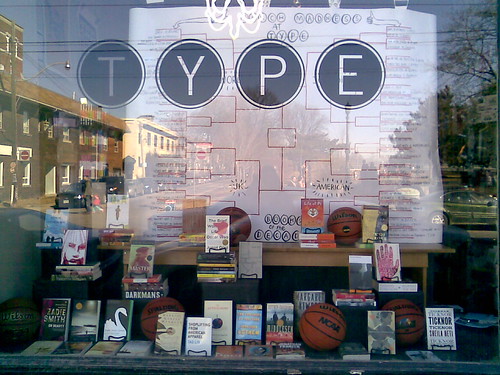 Other than the I'M BORED launch :-), are there any other upcoming events and news you'd like to share?
We're so excited about the I'm Bored launch! We can't wait. It's a fabulous book – beautiful and funny too. My son just changed daycares and "I'm Bored" was his going away gift to his old centre! I'm also really thrilled to be part of the launch for Andrea Curtis' book, "What's For Lunch" at the end of the month. It's a fascinating look at what kids eat for lunch around the world. Andrea's event at TYPE: September 30th, 3-5.
Facebook Event Page for the I'M BORED Book Launch (Illustrator)
Where to find more info about TYPE:
Their website: http://typebooks.ca/
On Twitter: https://twitter.com/typebooks
On Flickr: http://www.flickr.com/photos/typebooks/
For more insights from book creators, see my Inkygirl Interview Archives and Advice For Young Writers And Illustrators From Book Creators.