Interview: YA author Nelsa Roberto and THE BREAK

I met Nelsa Roberto through the Toronto Middle Grade and Young Adult Author Group (a.k.a. Torkidlit). I love Nelsa — she's so positive and funny and encouraging; I've appreciated her encouragement of my own writing.
I enjoyed Nelsa's previous book, Illegally Blonde (Great Plains Teen Fiction, 2010); I interviewed Nelsa for Inkygirl about how she wrote and sold her first book. Thanks to Nelsa for agreeing to answer some questions about her second YA novel, THE BREAK, which launched in this Spring.
Nelsa posts about the writing life, kidlit/YA & her work in her blog, Out Of The Wordwork. You can also find her on Twitter at @nelsaroberto, Pinterest and Facebook (and she's currently using a photo that I took for her Pinterest & Facebook user icon, yay :-).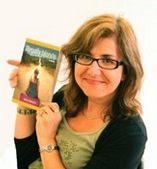 Could you please tell us about your book, THE BREAK?
THE BREAK began with a simple thought, one that came into my head as I saw my mom interacting with my kids in that completely unselfish, completely there, unconditional love she and my dad have for them. "This is the purest kind of love", I thought. From there came the less happy thought, "What would my kids life be without their grandparents in it? What would they lose? What would my parents lose?"
Once those thoughts start happening then, if you're a writer, you know a story line will surely follow. So Abby Lambert and her beloved, Nonna, were born.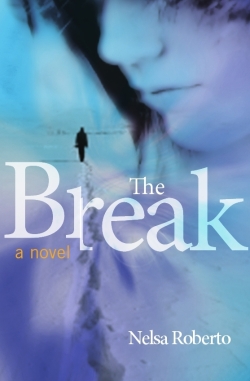 Around the same time that I was thinking about writing a love story about a girl and her grandmother, I also decided to bring the aging theme – and all the constraints and difficulties aging creates – into sharp focus by making Nonna be in the early stages of Alzheimer's.
Memory – and all that means to relationships and family and the passing down of family history from grandparent to grandchild – is a fascinating thing. Without it we have no connection to each other.
How does the loss of memories affect relationships? How do family members react when this starts to happen? I knew so many people whose lives have been impacted by various forms of dementia. So many times I heard people say it was almost harder to deal with seeing their parents/grandparents/spouse etc. losing their memory than if they were dealing with a physical illness.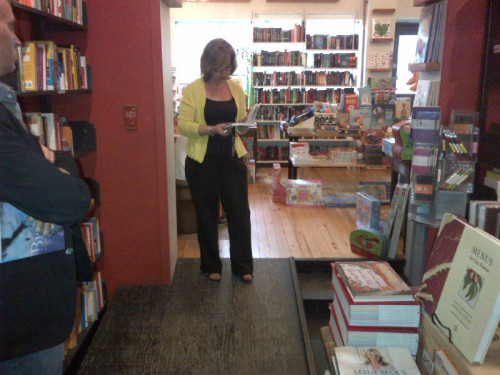 As for a plot summary for THE BREAK, I just had my first review in The Winnipeg Free Press and I thought they did a fabulous job of summarizing what the book is about:
"…in The Break (Great Plains, 204 pages, $15 paperback), Roberto has written (about) … a teen who refuses to accept that her beloved grandmother is suffering from dementia. It is also a novel about guilt and the devastating effects of regret. Abby Lambert is furious with her mother, who has accepted a position with Doctors Without Borders for the very week of spring break, when Abby has planned to join a ski trip. Abby is left to look after her grandmother, whom she soon realizes may be having some severe problems. Her Nonna also wants to visit the Sunny Haven home, which Abby avoids at all costs. Abby's life becomes more complicated when she gets to know a boy whom she has always thought of as arrogant and unfriendly — until she sees a sensitive side of him as he works with seniors at the nursing home. Abby must face unwanted truths and make important decisions. This is a realistic novel with a dash of romance that teens will find appealing."
How did THE BREAK get published?
Research into Alzheimer's was easily done as there are many websites and articles about this devastating illness. I also, unfortunately, knew friends and family who had had to deal with a loved one going through this illness.
I began writing this book as a follow up to my first novel, ILLEGALLY BLONDE (Great Plains Teen Fiction, 2010) – in fact, I began writing it while IB was still on submission. Once Great Plains bought my first book I knew I'd have to submit an option book.
Knowing Great Plains preferred contemporary realistic stories I knew the idea and themes of THE BREAK would appeal. Yet, as per my usual process, I wrote about 100 pages then stopped (that dratted murky middle again!) and I started another book that was calling to me – a YA paranormal.
My then agent looked at both partials and encouraged me to focus on THE BREAK. Good thing she did! Great Plains released it in March, 2012 and I had the launch April 20th at TYPE Books in Toronto where I did my very first public reading and didn't collapse from nerves!
How much outlining do you do? What is your typical work process or work day?
For this book, I actually outlined the whole thing! That deserves an exclamation remark because that is not the usual process for me. Usually I outline the first half or do a back-cover kind of blurb/synopsis then jump right in to writing.
Funnily enough, I always thought that because I don't usually outline the whole book, that was one of the reasons I get stuck in the murky middle – I haven't plotted the rest of the book out so I need to stop and think! Yet, with THE BREAK I had plotted it all out and I still stopped in the middle.
When I look back on the outline now, I do see some plot lines that didn't branch out in the final product so I know when I actually start the writing, regardless of whether or not it's plotted out, the pantsing takes over and I may veer off in another direction that may or may not slow me down (usually it slows me down!)
My typical work process is to write when and where I can. With a full time job and a busy family life, I usually write on the subway, or at home late at night. But my life the last year has been unusual since we've undergone a massive home reno so all my routines went out the window (along with the old windows!).
I'm hoping to get back into at least an hour's worth of writing a night again. I've discovered that not writing is not making me feel good (writers understand). I'm only 20,000 words away from finishing a WIP that I started back in 2008 and shelved.
When I looked at it again last fall, the spark lit up for me and I added another 10,000 words on it relatively quickly so I'm hoping now that I'm settled in my home life (somewhat) I can finish this one and make headway on another one that I just started and start querying agents with it in the fall.
Any words of encouragement for writers who keep getting rejection letters?
Rejection letters are what you make them. If you are getting form letters congratulate yourself on having the courage to send your writing out there. That is no small thing. If you are getting personalized rejection letters it shows you are developing as a writer.
Your story, your writing, your characters – something has made an editor or agent connect enough with your words for them to write something to you. Appreciate the compliments and learn from the comments.
If you keep getting rejection letters it means you have perseverance. You cannot become published if you don't have that.
Bravery, talent, knowledge, persistence. What's so bad about rejection letters again?
What are you working on now?
I've completed a YA fairy-tale inspired romance that is out for critique with some writers I trust. It may need to be reworked again before I decide if it is good enough to query.
I'm also trying to finish another YA contemporary that I began several years ago. I'm hoping to get that done over the summer. The thing I've learned is that not every book you finish writing may be good enough to go out there. But every book you finish writing is a victory because you finish.
What advice do you have for aspiring authors?
Always write a book you feel passionate about. Don't worry whether it's not the 'in' thing that will land you a publishing contract. Worry about whether your main character is appealing. Worry about whether he/she has a goal/problem worth writing (and reading!) about for 200+ pages. Worry about if you have enough conflict.
Worry. About. The. Story. Not about whether you are going to be published or not. That worry comes soon enough after you've written this book you are passionate about. Until that time comes, concentrate on the writing and the story. The rest will follow.
—
Find out more info about Nelsa at her blog: http://out-of-the-wordwork.blogspot.ca/
Also see other InFor more insights from book creators, see my Inkygirl Interview Archives and Advice For Young Writers And Illustrators From Book Creators.