Interview: Hazel Mitchell & HIDDEN NEW JERSEY (Post a comment to be entered in the prize draw!)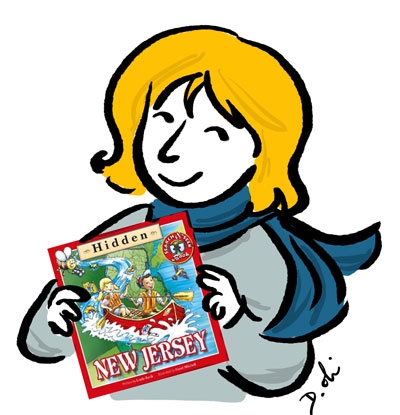 Today, I'm delighted to interview my Pixel Shavings friend, children's book illustrator and writer Hazel Mitchell, about her newest project.
Published by Charlesbridge/Mackinac Island Press, HIDDEN NEW JERSEYis a new book written by Linda Barth and illustrated by Hazel. The book is packed with historical, cultural and fun facts about New Jersey shared in rhyming narrative and Hazel's wonderful art. Young children can search for the hidden pictures throughout as they learn more about the state.
For a chance to win a copy of this book, just post in the comments section below! Be sure to enter your e-mail address so we can contact you if you win (random draw).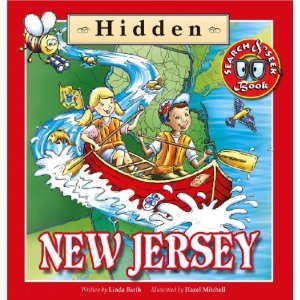 ——————–
How did you become the illustrator of Hidden New Jersey?
The developer for the book, from Mackinac Island Press (imprint of Charlesbridge) has produced two other books in this series (about Michigan and Ohio) and was looking for an illustrator for New Jersey. She saw some of my work on my Facebook fan page and contacted me. We took it from there. Hurrah for social networking!
Hurray, indeed! How useful have you found social networking in your career? And how did you find the right balance between online marketing/networking and your creative work?
Yes I have, in many ways: making contacts and meeting new people in the industry, learning from other's blog posts and links and for getting my work out in to the world. I spend a lot less time on line than I used to .. especially when I am working on projects. Marketing is a big part of the book industry these days so I will probably spend at least an hour a day doing something online.
https://youtube.com/watch?v=uuXJfjc-Dgo
Have you ever been to New Jersey?
Yes! My hubby was raised there, so we went to visit occasionally. I had no idea it was such a diverse state, though! The author, Linda J Barth lives in New Jersey and is a local historian.
Did you have any direct interaction with the author during the project?
No, put now the book is ready to publish we have liaised on marketing ideas. it's really great she loved what I did with her words! Phew!
How many illustrations did you have to do for the book? How long did it take?
I did 15 double spreads, plus the artwork for the covers, title/verso page and the 'hidden objects'. In total about 4 months. About 5 days on each full spread.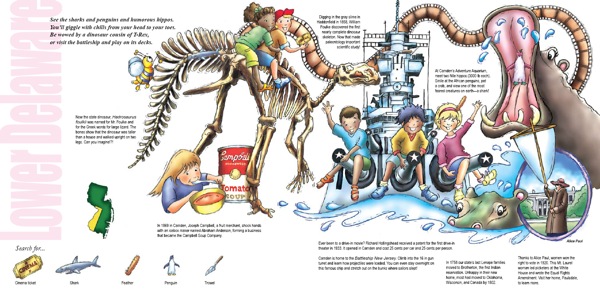 What media do you work with?
The line work is done in graphite and then I scan in and colour completely in photoshop.
Does illustrating a nonfiction book differ from illustrating a fiction book?
In some cases yes. In this case there was no running narrative throughout the book, as each page is specifically about a different region of New Jersey. So I had to include all the 'facts' in a montage style, abit like a jigsaw puzzle, and yet keep the feel of the illustrations cohesive. I did include the characters from the front of the book (in their canoe) throughout the illustrations as well as their little bumble bee friend, who is the state's adopted insect. There was a lot of research to be done as the illustrations had to accurately reflect many historical places. It was definitely a challenge, but an enjoyable one.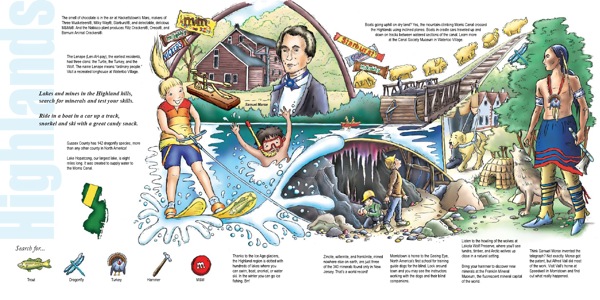 What are you working on now?
I am just about to start illustrating the fourth book in the 'All Star Cheerleaders' chapter book series by Anatasia Suen, (pub Kane Miller). And I am working on writing and illustrating my own picture books, and somewhere in the mix is an illustrated YA. So there is no chance that I will get BORED 🙂
Ha! 😀 And wow, you have a lot on your plate. How do you juggle your work schedule between so many different type of projects? Any tips to offer other illustrators with multiple projects on the go?
I like a lot going on. It's stimulating. When I have only one thing to do I feel like I am not working at my best. This probably stems from my Naval career and running a print business for many years. However when I am working on a book project I do find it hard to drop it and work on something else. I prefer to see the whole thing through in one go.
Sounds like a contradiction after saying I like working on lots of stuff. But mostly I am thinking about other projects, or making notes. If I have multiple deadlines, then I try and break the day up, or at least swap alternate days to work on them. It's hard. And then sometimes you hit a lull, and it's like you don't know what to do with yourself 🙂
My advice is make lists. I cannot do without them and ticking things off gives me a sense of moving forward. I am learning that you have to go with the flow in the world of publishing, that's for sure!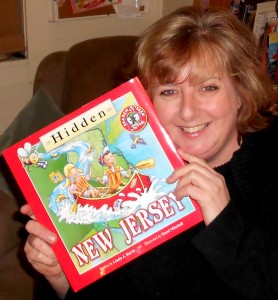 ——
You can find out more about Hidden New Jersey and Hazel Mitchell at the Hidden New Jersey Facebook Page, Hazel's Personal Facebook Page, Hazel's Pro Facebook Page, Hazel's website and Hazel's blog.
——
Other recent posts about HIDDEN NEW JERSEY:
Pixel Shavings: Hazel outlines the step-by-step process of how she illustrated HIDDEN NEW JERSEY
Joanne Marple's "Miss Marple's Musings" blog
Michelle Henninger's Hidden NJ blog post
—–
Also see other Inkygirl Interviews.For more insights from book creators, see my Inkygirl Interview Archives and Advice For Young Writers And Illustrators From Book Creators.