I'm Bored sample page spreads online AND a comment from the Very Famous Michael Ian Black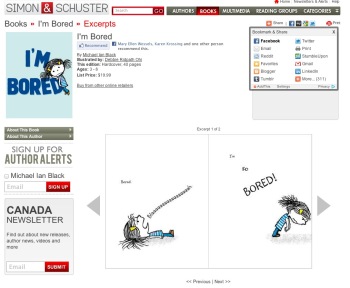 My friend Mary Ellen Wessels let me know on the weekend that there are some sample spreads available on the Simon & Schuster website page for I'M BORED (new picture book by Michael Ian Black, illustrated by yours truly, coming out this September). I asked her how she knew, and she told me that she had signed up for my Author Alert newsletter. So I've gone ahead and signed up for my own Author Alert newsletter even though it makes me feel way egotistical.
But hey, I want to know what I'm up to!
Anyway, I posted about it on my Facebook Page and was tickled to get a comment from the Very Famous MIB himself:

Yay!