GUEST POST: Hazel Mitchell on the creation of her picture book ebook with UTales
Hazel Mitchell is the illustrator of several books for children, including 'How to Talk to an Autistic Kid' (Books for a Better Life Finalist 2012),'Hidden New Jersey' from Charlesbridge/Mackinac Island Press 2012, and the 'All Star Cheerleader' series by Anastasia Suen from Kane Miller.
She is originally from England, but now lives and works in Maine USA along with a menagerie of animals and a couple of snow shovels.
Find out more about Hazel at http://hazelmitchell.com/—-
As a children's illustrator and writer, the opportunity to get an ebook online can seem both mind boggling and frustrating. Only six months ago, getting a book online was a big and expensive deal, out of reach of most individuals. If you were well published there was a chance your book might be made into an app. The rest of us were just spectators. But just lately the world of kid's books in apps and ebooks has exploded!
New start-ups are making it possible for children's book creators to produce their own books and get them out for ipad/iphone/android with little, if any, cost. With the rise and rise of the ipad, and now Kindle Fire, several companies have jumped on board and launched software which enables the easy self-publishing of ebooks.
Each company is doing it in a different way. Some are owned by regular print publishers marrying up with software designers. Others spring from the entertainment industry and gaming companies. Right now, it's a wide open field.
I was interested to dip a toe into the 'ipond' and see what it was all about. I chose to give Utales.com a go. There are several reasons why I was attracted to this app company and one reason was they have an editing team watching over the quality of all books published, headed up by Emma Dryden of Drydenbks.com. She is an industry professional with a lifetime's experience in editing and producing children's literature. To me this was vitally important. In a market that is truly self published having no QC is asking for trouble. After all, we want these books to be a great product.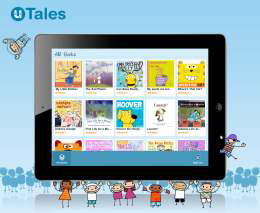 Utales is based in Stockholm, Sweden and is the brainchild of entrepreneur and social media expert Nils von Heijne. Anyone can submit a book for review by the uTales panel. The software created by the company is very easy to use and requires very little expertise. For illustrators who already use a computer, it's a breeze. The software comes with the ability to create simple animations and sound effects. Those looking for more extensive animations and control might find the software lacking. But it's about creating great stories for kids, and although there are some bells and whistles, it's not the main focus of Utales.
Utales works on a co-operative system. (Something very different to other ebook platforms out there). Utales encourages collaboration between authors and illustrators, some working at great distances from each other around the world (over 1,000 to date). Join the Utales page on Facebook to meet other creators, it's a lot of fun! The % earned by a book is 60% of the cost (and you can set your own price). If you are working with a collaborator the % is split 50/50. Books may be purchased singly or the purchaser can choose to subscribe monthly to the service and read all the books they wish. The cost of subscribing is $9.99 a month and with over 150 to choose from, that's great value! Each Utales contributor is then paid a % of the total subscriptions in that month, dependent on the number of times their book is read.
Another cool feature of Utales is their support of the charity Pencils of Promise, a nonprofit founded in 2008 that has since built 30 schools in villages around the world. Contributors can choose their level of donation from each book.
SO how did I create the book?
First I had to decide what to create. That was pretty easy as Utales was running a competition to retell a classic tale and I chose 'The Ugly Duckling' by Hans Christian Andersen.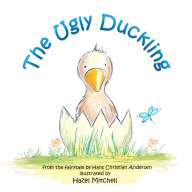 The page size is always a square format. First I worked the way I would usually for any book – by creating thumbnails and roughs to get the flow of the story. I was aiming for about 30 pages, so about the same as a standard picture book.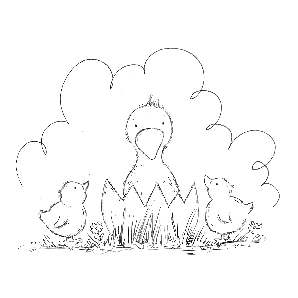 I hand drew each page in pencil. (Again this is how I usually work).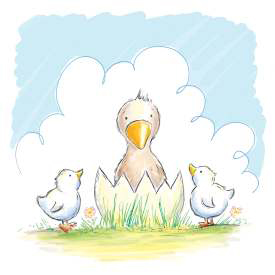 I scanned them in and using Photoshop, coloured them. Then I added the text. There is a facility to place the text in Utales, but frankly it was just as easy to add in Photoshop. (Later I wish I had used the online text facility as I had to them go back and forth to make edits and reload which was aggravating.)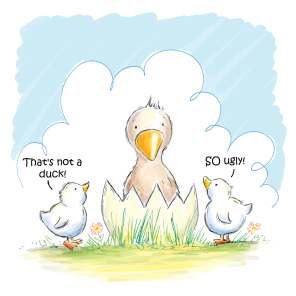 Next, I thought about the areas I would like to animate. These areas have to be uploaded as transparent gifs/png's to the software on Utales and overlaid on the background. I separated the egg out in Photoshop (which moves and makes a 'cracking' sound) and also added a couple of dragonflies that 'chime and wiggle' when touched. Go to http://utales.com/books/the-ugly-duckling to see the finished page.
I uploaded the background (with the text) to Utales. To do this you need to join the Utales community. Starting a book is easy … You simply create a new book and the software opens on your computer. No downloads etc. You work totally online with each page in a book format and can preview at every stage. It works on MAC or PC.
The software did have some issues … occasionally it would lose the animations and sounds and if I had to change the background then the overlays sometimes had to be repositioned (you can change the sizes and positioning with handles, very easy!)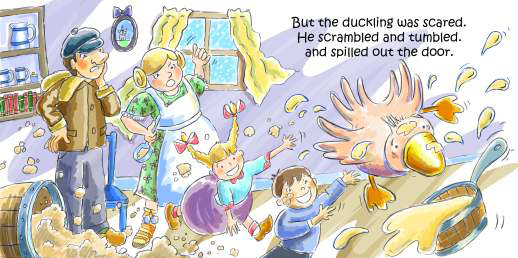 You add cover pages and title pages just as you would with a printed book. Here are a couple of other images. On some of the pages I made things move that you normally wouldn't expect – like the rain and snow and stones in the barn yard. It created more movement with limited options. I also created some double spreads for interest as well as spot illustrations.
When you have completed the book (and you can rearrange pages and make changes as much as you wish) then you submit it (or 'publish') to Utales. At this point the book is reviewed by the QC panel. If they have changes (mine were mainly with punctuation – NO surprise there!) They will get back to you. You can resubmit the book twice more for review. After that if it is still not up to quality – then no deal. And they mean it!
After a couple of back and forths 'The Ugly Duckling' made it to the ebook list in time for the launch in early November. And what was even better I won the Utales Classic Tale Competition and got myself an ipad2!! Yippee!
The app is available to download on ipad and iphone right now. You DO need to register first at Utales.com to get a password and user name. This has proved somewhat frustrating because Apple will not allow a redirect to a website OR instructions on the front page (well, they will, but for a BIG %). It's aggravating as it feels as if Utales is being penalized for it's community approach. We are assured this won't be so on the Android, and hopefully, Kindle rollout. We shall see.
So far I have had over 550 hits on the book and am hoping to produce another classic fairytale soon. It was a lot of fun to produce the book. I guess I did it in about a week, a very small amount of time from conception to public release!
Utales are planning on adding more animation and sound features in the New Year. Right now all books are in English, but other languages are planned, as well as more educational books. I really hope that there is a 'read back' feature at some point.
Things to bear in mind: These Ebooks are great for younger viewers – if you want to do a graphic novel or similar, not so much. Larger text is best because of iphone in particular. Bright simple pics work well, but with the quality of the ipad detailed drawings do just as well these days. The emphasis is on reading and not games.
To see a preview of 'The Ugly Duckling' go to http://utales.com/books/the-ugly-duckling
Find more of my work at www.hazelmitchell.com or my blog at www.hazelmitchell.blogspot.com. I'm a proud member of the GLOG Pixel Shavings and a PAL member of SCBWI. Contact me by e-mail.
https://youtube.com/watch?v=uuXJfjc-Dgo