Kidlit News Quickie Round-up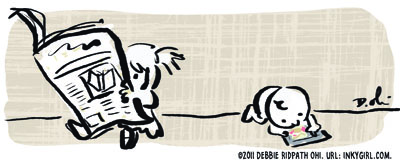 NPR launches The Back-Seat Book Club for kids ages 9 to 14. (NPR)
Children's/YA Market Growth "Stunted" in 2012 by Borders Group Closure(Market Watch)
PLUS: if you want a fun glimpse inside the headquarters of Scholastic:
Video — Cubes: An Inside Look at Scholastic's Global HQ (Mediabistro)
Compiling a list of kidlit/YA news sources:
I'm also starting to collect a list of sources of children's/YA industry news.
If you have any suggestions, please do post them in the comments section. Please note that the URL must point to a site or page that focuses on kidlit/YA NEWS, not general publishing industry news and not just general kidlit/YA info with occasional news (e.g. "so-and-so sometimes posts great kidlit news" ). However, if the person tags their news items so that someone could click on that tag and see just news items, I'd be happy to add that URL to the list.
I'm also only interested in public sources that don't charge a fee for access.
Thanks so much for any suggestions! I'll post the list I've compiled every time I do a kidlit news round-up.
Here's what I have so far…
Publisher's Weekly: Children's section
Quill & Quire – Canadian focus
Who's Moving Where: news & staff changes at children's book publishers, by Harold Underdown