Facebook vs Google+ For Children's/YA Writers & Illustrators: My Take So Far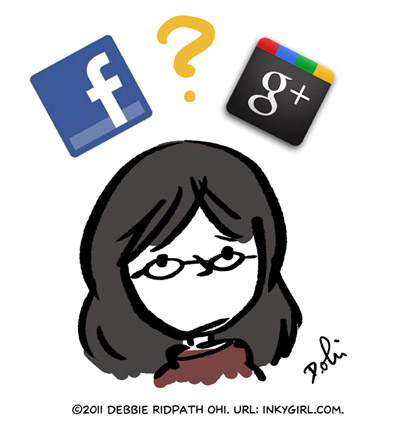 Still torn between Facebook and Google+. I have been using both social networks, but eventually I know that eventually I'm going to have to pick one or the other as my main social network hangout; I simply haven't the time to use both regularly…as I've mentioned before, my current goal is to change my social media habits so I can spend more time on my writing and illustrating projects.
Yes, I know there's always Twitter. I don't really compare Twitter to Facebook and Google+ because for me, it's such a different animal. I love Twitter but use it far differently than I do Facebook and Google+. More on this in a future blog post.
What I'm Liking about Facebook
Anyway, I've liked some of the recent changes that Facebook has been making. I'm sure that some of these changes have been in response to Google+ features that have been popular, but I'm all for healthy competition…especially if it means improvements to my own user experience. Yes, I know. It's all about meMEMEEE! I like the simplification of privacy settings. I like being able to tweak how much of people's information I see in my incoming stream. I like being able to access my Close Friends list from the main page.
Unfortunately the company has not always been great at communicating with its users about upcoming changes, so there has been a lot of confusion and resentment. I can sympathize, though. In my experience, the larger an online community grows, the more difficult it is to make changes without upsetting users. People get comfortable with how things work and may get irritated about having to learn a new interface, even if it ultimately results in a more positive user experience.
What I'm Not Liking about Facebook
Even though it's now easier to read and share with particular Friends list, there is currently no easy way to retroactively organize the people on your list. On Google+, you can mass-select users and to use drag-and-drop to move them to particular Circles. In Facebook, you have to individually select each user. Major pain, especially if you have a lot of people following you.
I'm also not crazy about how Facebook Fan/Pro Pages work right now … but at least Facebook HAS Pro Pages, unlike Google+. I only started one after finding out that there is a cap on the number of people with whom you can connect via a personal Facebook account. Not a problem for me yet, but I've heard of more and more authors who have reached their cap and had to start from scratch (in terms of making connections) again….this time with a Pro Page.
What I'm Liking about Google+
Overall, I find Google+ to have a cleaner and more intuitive user interface. I love the whole concept of Circles, which makes it easier to read and share with specific groups of people. The people who follow my posts on Facebook and Google+ represent a wide range of interests in my life. There are my friends from university, family members, writers and illustrators, board gamers, filkers, comics people and others. Although each group probably wouldn't mind occasional posts from me that didn't overlap with their own interests, they'd probably be turned off (as I would) with too many.
My gamer friends, for example, would be far more riveted by my reviews of board game prototypes from a board gaming convention then would my writer and illustrator followers. Meanwhile, the board gamers would likely have little interest in my promo posts about children's book illustrators and writers.
I find it easier to discover interesting new people on Google+ than I do on Facebook. I also find I usually get far more responses to what I post on Google+ than I do on Facebook, and more interesting and involved discussion. Why? I'm still trying to figure that out.
Another feature of Google+ I love: Google+ Hangouts! I'm a huge fan.
What I'm Not Liking about Google+
No business pages. No integrated groups. I'm pretty surprised that Google+ chose to launch without business pages, and then specifically asked people NOT to create nonpersonal or group accounts for this long. I'm sure this has kept a number of people from moving to Google+.
I'm also finding that as much as I love Circles, there is still some awkwardness about where to put new followers. Someone who follows me for my kidlit/YA posts, for example, may also be a closet board gamer, but neither of us may be aware of this additional connection. I'm hoping that Google+ will add the ability to include categories or tags in our profiles; this would help a great deal in terms of connecting through similar interests.
My Overall Take
There are far more kidlit/YA people on Facebook than Google+ at present. Or to clarify, there are many kidlit/YA types who have a presence on both networks, but mainly post on Facebook. This is a major factor for me in the whole Facebook versus Google+ choice. I may like the interface and feel of Google+ more, but in the end I will go where the majority hangs out.
For many people, it seems that Facebook wins out because that is where they can connect with family members. Until these family members have incentive to move to Google+, it's unlikely the situation's going to change.
Facebook strikes me as more of venue for maintaining personal connections, while Google+ is more about discovery and discussion. Both have their appeal to me — which is good AND bad, in terms of my decision where to spend the most time. 🙂
I'm also well aware that Google+ is still in its infancy, only recently promoted from its testing phase to public use. Undoubtedly Google is going to be integrating more of its other services. I've already noticed that the posts I make in Google+ generate far more search engine love (not surprising) than anything I post in Facebook, and this goes for sites I link to from within Google+.
So for now, I'm going to wait and see. Leaning slightly toward Facebook because that's where more of the kidlit/YA industry seems to be (including my agent and my publisher), but curious about how Google plans to integrate its other properties.
Where You Can Find Me On Both Networks
On Facebook:
My personal account | My Author/Illustrator Page | I'm Bored (book I'm illustrating for Simon & Schuster BFYR)
On Google+:
My personal account (see my About Profile for a list of Google+ people directories I've started, Including my Google+ kidlit/YA directory)Update on Wednesday, October 26, 2011 at 11:14 AM by Debbie Ridpath Ohi
Follow-up discussion on Google+
No one has responded yet on Facebook (which I suppose helps prove the point I make in my post :-)).