Time Management and Social Media: Progress Update #1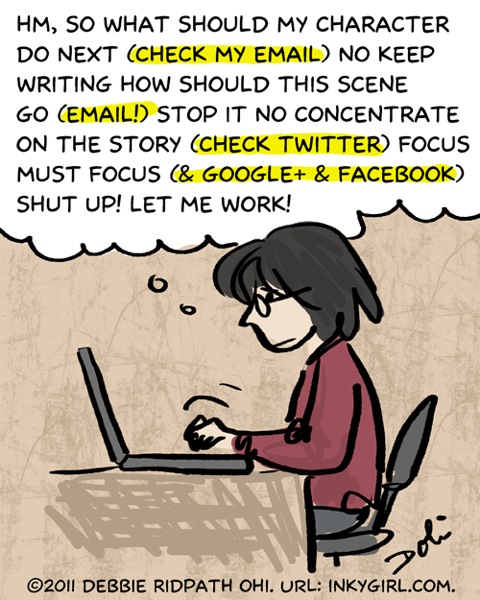 A little while ago, I posted about needing to rethink my social media habits. I am still rethinking. 🙂 I was off-line for much of August because of the SCBWI conference in Los Angeles as well as a 10 day anniversary trip with my husband.
I had originally planned to stay offline the entire time. Because we needed to coordinate with friends in California and because Jeff was relying on Google maps and other online navigation information during the trip, I found it impossible to resist the lure.
Yes, I am weak.
I did manage to stay off line for as much as 48 hours at a time, however. This may not seem like a lot to some of you. For me, though, it was an achievement. :-)What I found: I did not miss being online if I had other distractions to keep me occupied.
When I got home, I started experimenting with longer work sessions during which I stayed completely offline. It wasn't nearly as difficult as I thought, especially when I realized how much more productive I could be. A surprising challenge: training everyone else to learn that I wasn't as glued to my e-mail as usual. I can't blame them, really. People are so used to me being able to respond to an e-mail within a few minutes.
As I mentioned before, I have no interest in pulling back completely from social media. I use social media for so much more than just business networking, and it's part of who I am. I have always been a fan of online communities.The people and posts I follow on various social networks inspire me, inform and educate.
As a creative freelancer, I'm used to working for long periods in isolation. When I'm working on something that requires a lot of creative concentration, I need to be alone. However, sometimes it's great to take a break and socialize a bit online.
The key, of course, is moderation.
Here are some steps I've been taking in my attempts to get more control over how much time I spend online and my productivity:
1. Learn to say no. Sometimes a fun project or a project for a good cause will come up, or a potential promotional opportunity that's hard to turn down. I'm keeping closer track of how many of these I take on at any one time, and learning how to say no or to postpone the rest.
2. Learn how to focus for longer periods of time. I've grown so used to an interrupt-driven workday. What I have learned, which I'm sure is already obvious to most of you: being able to work for longer periods without interruption makes me more productive. I try to ignore the phone when it rings, and let people leave messages. I tried to check e-mail fewer times during the day, and am also gradually training people I know to not expect immediate responses.
3. When I go online, I try to stick to my original purpose. I find it way too easy to start following links and looking things up online, clicking and clicking until I realize I've totally forgotten the original reason I went online. Now I use Instapaper and Pinboard to record links I want to check out later and tell myself (who gets the following nerdy Star Wars quote ref?) to STAY ON TARGET.
How are the rest of you doing? Have you learned any new tips to share?