Interview: Hélène Boudreau on book tours, writing, promotion and MERMAIDS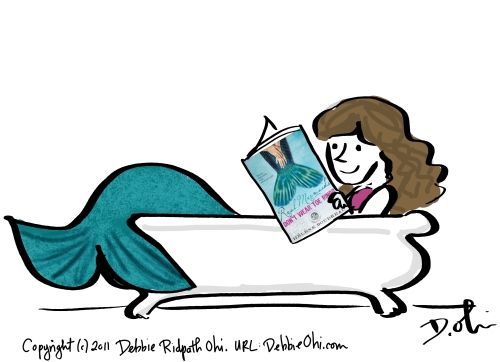 Toronto author Hélène Boudreau writes fiction and nonfiction for children and young adults. I first met Hélène at a Torkidlit group tweetup and have continued to be impressed by her never-ending positive creative energy, ability to juggle multiple projects AND her online promotion skills.
Her tween novel, Real Mermaids Don't Wear Toe Rings was a 2011 Crystal Kite Member Choice Award Finalist.
Last year you went on a book tour. How did that go?
The book tour was great! I spent a week in New Brunswick, touring schools, as part of the Hackmatack Children's Choice Book Award program. Atlantic Canadian students from grades 4-6 spend the school year reading from a selection of nominated books and then vote for their favourites. My middle grade book, ACADIAN STAR, was nominated in 2010 and I was invited to visit a total of five libraries where I met hundreds of kids who'd taken part in the program.
What was your favourite part of the book tour?
My favourite part of the tour was meeting all the students. These kids were reading superstars! Some of them had read up to 13 books for the program and had so many great questions during my presentations. It was easy to tell that they came well prepared! The final day of the tour was the awards ceremony. Six hundred kids packed the auditorium with signs, banners and costumes, representing their favourite books. It was pretty inspiring to hear an auditorium filled with kids, cheering and going crazy for BOOKS! That's pretty much any children's author's dream.
During your tour, did you get any writing done?
I had one or two presentations each day plus travelling but I had a bit of down time during the tour to get some work done. I worked on a picture book revision and made a bit of progress on a young adult novel I've been working on. Most of my stay was in Fredericton, which is beautiful, so I took advantage of the pretty scenery and spent a lot of time walking along the St. John River. It was actually very restful (no laundry, no dishes, no cooking) and a nice change from my usual mom/writing/work mode.
How did you get your book tour? Did you plan it or did someone else arrange it?
The tour was all arranged for me by Hackmatack and the New Brunswick Public Library system. They arranged everything from my air travel and accommodations, booking the sessions and shuttling me from place to place. They were wonderful hosts!
So you're working on a picture and a YA novel at the same time? How to manage your work time?
I usually work on several projects at once and try to manage my writing time in the same way as I approached projects when I worked in a more traditional office job. I prioritize projects depending on their deadlines or scope and keep an ongoing to-do list to help stay on track. It can be a bit of a juggling act but it definitely keeps things interesting!
Do you find any challenges in writing for multiple genres?
I think being a writer is a lot like being an actor in many ways. Whether I'm writing a picture book or a young adult novel, I need to understand my character's motivations, wants and needs before I can step into that role. The difference is that I need to tell those stories from different perspectives, depending on the age and maturity of my character. So, yes, working in multiple genres has its challenges, but that's also part of the fun.
What advice do you have for authors considering doing a book tour?
Pack lightly! Try to choose clothes and footwear you can wear multiple times or hand-wash easily. Non-wrinkle clothing and neutrals work especially well. You may have some downtime, so be sure to pack good walking shoes and outdoor clothing you can layer so you'll be ready to explore your destination city, whatever the weather.
Be flexible! Other opportunities like extra appearances, media interviews or dinners may crop up while you're on tour. It's okay to decline if you're strapped for time but be open to new possibilities.
Be adaptable! Travel arrangements don't always pan out (I was bumped on both my outbound and inbound flights) so have a book or your laptop ready to fit in a bit of work.
Have fun! The best part of book tours is meeting readers so make a special effort to meet and talk to as many readers as possible.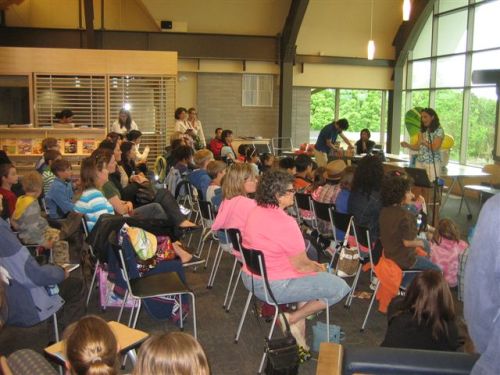 Any advice for hopeful children's writers?

That's a toughie, because I'm trying to think of words of wisdom that may have helped me just a few short years ago. It's so hard to stay on course when you have no idea if your efforts will ever amount to anything but you just never know when your time will come. Mainly, I'd encourage hopeful children's writers to write with confidence, even if you don't feel it. To leave it all on the page and not spare a drop. So much of this business is out of our control, but what we can control is the effort and mindset we put forth. So, I'd say; set clear, definable goals and walk confidently toward them.

Or, fake it 'til you make it. 😉
When it comes to effective use of the Internet for author/book promotion, you're one of the best. How do you manage your time re: promotion vs writing?

Gosh, I don't know that I'm that effective but I do know that I enjoy social media and love connecting with people that way. Managing my time can be tough especially around book launches or when I'm travelling to conferences and such but I try not to procrastinate on the writing side of things so that I don't get buried by deadlines. That way, if unexpected things come up like trips, (chicken pox), or new projects I've got a bit of wiggle room. As far as fitting in time for social media, that's a must for me. I can't be creative 100% of the time and the internet is a good outlet for interaction and idea-sharing.

What are you working on now?

I'm getting ready for the release of the second book in my RED DUNE ADVENTURES junior chapter book series (WATER HAZARD, Nimbus Publishing, spring 2011) and writing the SEA-quel to REAL MERMAIDS DON'T WEAR TOE RINGS (Sourcebooks/Jabberwocky, Dec 2010). The new one is called REAL MERMAIDS SHOULDN'T HOLD THEIR BREATH and it will be out in spring 2012. I also just finished revisions on my picture book which will be out in 2013. The illustrator has started sketching so I'm excited to see what the artwork will look like.
Sneak peek trailer for REAL MERMAIDS SHOULDN'T HOLD THEIR BREATH (official trailer coming out later):
https://youtube.com/watch?v=xFcY1dIw85E
———
For more info about Hélène and her projects, see:
Her website: http://www.heleneboudreau.com/
On Twitter: @HeleneBoudreau
Her books:
WATER HAZARD, Nimbus Publishing, 2011
REAL MERMAIDS DON'T WEAR TOE RINGS, Jabberwocky, 2010
KEEP OUT!, Nimbus Publishing, 2010
ACADIAN STAR, Nimbus Publishing, 2008

Upcoming:

REAL MERMAIDS SHOULDN'T HOLD THEIR BREATH, Jabberwocky, 2012
REAL MERMAIDS BOOK 3, Jabberwocky, 2012
I DARE YOU NOT TO YAWN, Candlewick, 2013
EVANGELINE FOR YOUNG READERS, TBD

and non-fiction too:

LIVING IN A RESIDENTIAL CITY, Crabtree Publishing
LIVING IN A FISHING COMMUNITY, Crabtree Publishing
SPORT SCIENCE: SWIMMING, Crabtree Publishing
MIRACULOUS MEDICINE, Crabtree Publishing
CRIMEBUSTING & DETECTION, Crabtree Publishing
For more insights from book creators, see my Inkygirl Interview Archives and Advice For Young Writers And Illustrators From Book Creators.