Paula Yoo and National Picture Book Writing Week (NaPiBoWriWee)
National Picture Book Writing Week starts tomorrow! Founder Paul Yoo explains the event…
What exactly is NaPiBoWriWee?
NaPiBoWriWee stands for National Picture Book Writing Week. The goal is to write 7 picture books in 7 days. I have to clarify this by stating that I do NOT think picture book writing is easy. On the contrary, it's incredibly difficult. This was just a fun event I started to inspire myself and others to stop procrastinating by trying to not only write but FINISH an entire picture book draft. That way, once you have the first draft (or seven first drafts!) done, then you can take your time and revise them and polish them until they are ready to be submitted.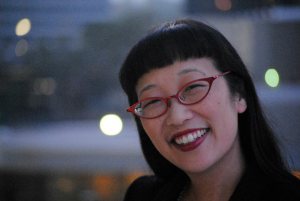 What motivated you to start the event?

I was inspired by the National Novel Writing Month (aka "NaNoWriMo") in which people try to write a novel in 30 days. I wanted to motivate myself to stop pcroastinating and finish a couple of picture book drafts I had
ignored for way too long, so I created this fun event to see if I could finally write these drafts. I had no idea this fun event would turn into an international phenomenon. I hope people are inspired to stop procrastinating and just get that first draft FINISHED. That's half the battle – finish a first draft!

Apart from NaPiBoWriWee, what are you working on now?

I am currently a writer and producer for the show EUREKA which airs on SyFy. The paperback edition of my 2008 YA novel debut "Good Enough" comes out June 7, 2011 from HarperCollins / HarperTeen. And I'm of course working
on more book ideas – both novels and picture books – whenever I have spare time! 🙂