2010 SCBWI Illustrator Mentorship Award Winners!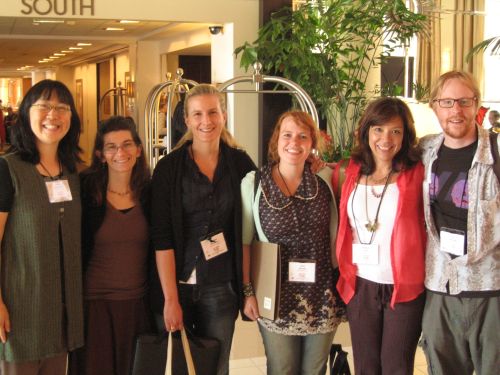 Many thanks to the SCBWI for the Illustrator Mentorship Awards; the six of us learned SO MUCH at our mentorship sessions on the weekend. We also had fun hanging out with each other, exchanging tips and advice, and we plan to keep in touch after we all go home.
In fact, we've decided to launch a joint online project soon…stay tuned!
In the photo above:
Debbie Ridpath Ohi (me!)
Ashley Mims
Andrea Offermann
Eliza Wheeler
Kimberly Gee
John Deininger
And many thanks to our mentors:
Cecilia Yung, Art Director and VP at Penguin Young Readers;
Pat Cummings, Illustrator, Writer, and Instructor at Parsons;
Priscilla Burris, National Illustrator Coordinator;
David Diaz, Award Winning Illustrator;
Bridget Strevens-Marzo, International Illustrator Liason; and
Rubin Pfeffer, Agent at East/West Literary Agency.